By Betty Hoover DiRisio, LCHS Volunteer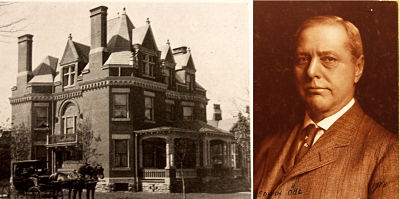 In October 1898, Edwin Ohl's (1850-1922) palatial residence at 208 East Lincoln Avenue, New Castle, was being constructed, a model of elegance and beauty. Completed in 1899 it was one of the finest residences in New Castle. Constructed of red pressed brick this Queen Anne style home contained 14 rooms exclusive of halls and the attic. The lot fronted 70 feet on Lincoln Avenue, extending back 235 feet on East Street with a width of 90 feet at the rear.
At that time Ohl served as the manager of the New Castle office of Republic Iron and Steel. He later became president of United Iron and Steel (1906), president of New Castle Portland Cement Company (1908) and a director of the First National Bank. About 1912 Ohl moved to Pittsburgh where he was associated with the American Roller Bearing Company, director of the Hanna Furnace company, the New Castle Rubber Company and the Keystone National Bank of Pittsburgh.
Haney Purchases Residence
On June 16, 1915 the residence on Lincoln Avenue was sold to James F. Haney, founder of Haney Furniture Company in New Castle. Part of the property deal, a year in the making, involved the exchange of a 12 suite apartment building owned by James Haney in Pittsburgh, valued at $65,000.
Ohl's wife, Catherine was an active member of the Anti-Suffrage movement. While she may not have believed that women should have held the right to vote, she apparently had no problem with a female owning property, including herself. Part of the deal required that Haney deed the apartments to her. Haney paid an additional $20,000 cash to close the deal.
At the time of the sale, the home was being occupied by Alex Crawford Hoyt who had leased it pending the completion of his residence on Leasure Avenue. Haney was to take possesion October 1, 1915.
The Haneys owned the property for a number of years until it was sold in the 1930's. It became Smith Nursing Home and subsequently Smith-Bishop Nursing Home. Today it serves as a four-unit apartment building.
Resource: Historic Homes Walking Tour