4,000 served / nearly 500 never returned
It is not surprising that when the Civil War broke out, there was a swift response locally to the call for volunteers. Lawrence County, long an area of strong anti-slavery sentiment, had been the location of several hideaways for escaping slaves on the "underground railway." There was also strong support for President Lincoln and for preserving the Union. Over the course of the war, 4,000 men, from the county with only a 20,000 population, served the Union cause. Nearly 500 lost their lives. Lawrence County men served in many units, but two that were organized here received special acclaim: "The Roundheads" and Battery "B"
Joseph B. Chambers
Joseph B. Chambers, a member of Company F of the Roundhead Regiment, was sent ahead of a skirmish in advance of the line of battle. At the edge of a road, Chambers observed the Confederate colors, jumped over resting troops and grabbed the flag pole holding the enemy flag. When the color bearer rushed to regain the flag, there was a tussle. The Confederate soldiers did not shoot for fear of hitting the color bearer. Meanwhile, the Union soldiers advanced quickly and captured the large Confederate detachment. A short time later, Pvt. Chambers, already in possession of the enemy flag, stopped a Confederate officer and took his sword. Pvt. Chambers was the father of Judge James A. Chambers. He was awarded the Congressional Medal of Honor in 1871.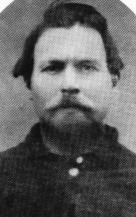 Civil War Congressional Medal of Honor
Joseph B. Chambers is one of two Lawrence County recipients of the Civil War Congressional Medal of Honor. The other is Cyrus B. Lower. Correction: Earlier we reported that Chambers was "Believed to be the county's only Congressional Medal of Honor recipient." This is Incorrect.
Medal of Honor Recipient: Joseph B. Chambers
Rank and organization: Private, Company F, 100th Pennsylvania Infantry
Place and date: At Petersburg, Va., 25 March 1865
Entered service at: East Brook, Pa.
Date of issue: 27 July 1871
Citation: Capture of colors of 1st Virginia Infantry (C.S.A.)
Information retrieved from: www.history.army.mil/moh/civilwar_af.html#CHAMBERS
Medal of Honor Recipient: Cyrus B. Lower
Rank and organization: Private, Company K, 13th Pennsylvania Reserves
Place and date: At Wilderness, Va., 7 May 1864
Date of issue: 20 July 1887
Citation: Gallant services and soldierly qualities in voluntarily rejoining his command after having been wounded
Information retrieved from www.history.army.mil/moh/civilwar_gl.html#LOWERCB
100th Regiment, The Roundheads
Dr. Daniel Leasure, a New Castle physician, was preparing to call on patients April 15, 1861, when he learned of President Lincoln's call for 75,000 troops. He turned his practice over to another doctor, dismissed the students who were "reading medicine" under him, closed the Coal City Chronicle, which he owned, told his wife of his intentions, jumped into his sulky and made it to Enon Valley just in time to catch the train to Pittsburgh to offer his services. Meeting with Secretary of War Cameron in August, Leasure offered to recruit a regiment. Since most of the people in eastern Lawrence County were Scotch-Irish, as was Cameron, General Winfield Scott, who was at the meeting, suggested the name "Roundheads" as a compliment to Cameron. Roundheads had been the name given to the Scotch-Irish followers of Cromwell two centuries earlier in the English Civil War. Companies B, E, F, I, and K were recruited in Lawrence County, with other companies from five nearby counties. On August 28, 1862, the men assembled in New Castle and scores of wagons took them to the train at Enon Valley. Leasure became colonel of the 100th Infantry Regiment, the Rev. Robert Audley Browne, pastor of the First United Presbyterian Church in New Castle, served as chaplain. The 100th fought near Charleston, S.C., in Virginia in the second battle of Bull Run, then at South Mountain. It then moved to Vicksburg, Miss., campaigned through Tennessee, fought numerous battles in Virginia and in the final assault at Petersburg. Approximately 170 members of the Roundheads from Lawrence County died.
To learn more about the "Roundheads" click here.
This links to David Welch's excellent web site on the 100th Pennsylvania Volunteer Infantry Regiment.
Battery B, 43rd Regiment, 1st Artillery
Battery B was organized in Mt. Jackson and the 78 men led by Capt. Henry Danforth marched to Enon Valley to board the train to Pittsburgh. Danforth quickly rose to the rank of lieutenant colonel and was assigned elsewhere. Capt. James H. Cooper took command. Danforth so wanted to be with his old battery that he resigned his commission and enlisted as a private in Battery B. He was killed in action June 30, 1862. Battery B, also known as Cooper's Battery, fought in 27 of the principal engagements of the war, including Antietam, where more Americans were killed than on any other single day in history, and at Fredericksburg, Gettysburg, and Petersburg.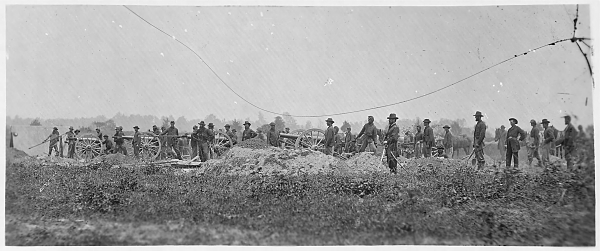 They had an especially key role at Gettysburg where they helped repulse Pickett's charge on the final day. A monument to their service was erected on Cemetery Hill, on the battlefield near the Visitor's Center. The battery's normal strength was 100 to 150 men. There were 38 killed and 52 seriously wounded, the greatest number of casualties of any volunteer battery of light artillery in the Union Army.
Battery B is seen in action before Petersburg
Matthew Brady, the famed photographer, obtained permission to take these pictures of Cooper's Battery in position for battle.
The first attempt provoked the fire of the Confederates. The gunfire frightened Brady's horse, which ran off with his wagon and his assistant, upsetting and destroying his chemicals.
Photo of Battery B at Petersburg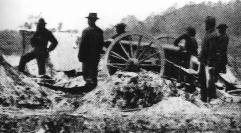 Brady's second attempt shows the battery ready to open fire.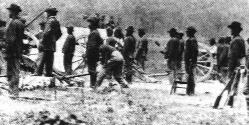 Colonel Oscar Jackson
Cited for gallant and meritorious service, Col. Oscar Jackson was one of the few officers from the North to serve much of the time in battle campaigns all four years of the war. Jackson, who was teaching school at Logan, Ohio, when the war broke out in 1861, recruited a company for service and was immediately commissioned a captain.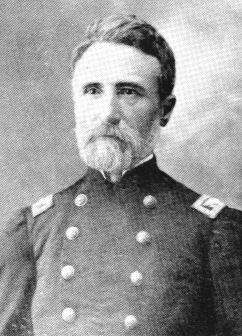 He was severely wounded in the face at Corinth, Miss., the bullet being embedded in his right eye and remaining there the rest of his life. Jackson fought at Vicksburg, in northern Alabama and Tennessee and participated in Sherman's march to the sea through Georgia. Discharged a colonel, Jackson studied and practiced law in New Castle. He was elected Lawrence County district attorney in 1868, and to the U.S. House of Representatives in 1884, serving until 1889.
Private Jacob Fox
When soldiers had the opportunity, they would send their "likeness" to their family. This picture is taken from a tintype Pvt. Jacob Fox of Slippery Rock Township sent to his parents. A member of the Roundheads, Pvt. Fox died at Vicksburg in 1863.
Civil War Veterans
These Civil War veterans gathered for a reunion in Ellwood City about 60 years after the war's end.