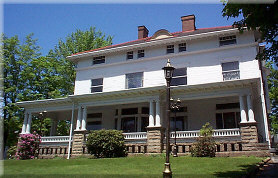 The Lawrence County Historical Society is located in Lawrence County, in Western Pennsylvania, and lies north of Pittsburgh and south of Erie.
It consists of the following 16 townships: Hickory, Little Beaver, Mahoning, Neshannock, North Beaver, Perry, Plain Grove, Pulaski, Scott, Shenango, Slippery Rock, Taylor, Union, Washington, Wayne, Wilmington. Within those townships are 1 city (New Castle) and 10 boroughs (Bessemer, Ellport, Ellwood City (partly in Beaver County), Enon Valley, New Beaver, New Wilmington, S.N.P.J., South New Castle, Volant, Wampum).
Wikipedia reference:  https://en.wikipedia.org/wiki/South_New_Castle,_Pennsylvania
THE SOCIETY
The Lawrence County Historical Society was charted in 1938. Attorney Charles Young was the founder and served as president until his death in 1943. While the Society remained intact, it was inactive for a number of years. In 1976, during the Bicentennial of the United States, it was revived by Dr. Ellis Hoffman, Rosemary Hoffman and others.
With diligent nurturing, the society began to flourish. A bold step forward came in 1982 when the family of the late Joseph A. Clavelli donated the beautiful 19-room mansion built in 1904 for local tin plate magnate, George Greer, to the Society. Mr. Clavelli purchased the home in 1965 and restored it to its former elegance before his death in 1968. The mansion, now named the Joseph A. Clavelli History Center, serves as headquarters for the Society and as a museum depicting the county's rich heritage.
The Society has active outreach programs including the Lawrence County Trivia competition in the county schools. A monthly lecture series on local history is held the last Wednesday of every month (with the exception of June-August). Additionally, the Society publishes a monthly newsletter, pamphlets, and books on various aspects of Lawrence County History.
Mission Statement
The purpose of the Lawrence County Historical Society shall be
to PRESERVE the history of Lawrence County
to PRESERVE the Lawrence County historic sites
to ACQUIRE and maintain related artifacts and materials
to CULTIVATE and foster community interest in local history and its preservation
to EDUCATE the community on the importance of its history
to MAINTAIN an association of individuals interested in these purposes
Non Profit
Tax Exempt 501(c)(3) Charitable Organization – non profit
Staffed with volunteers
Part time paid administrator
Part time paid volunteer coordinator
100% of each donation is used to help support our mission statement
All donations are tax deductible to the fullest extent of the law