Our research library is open from 11 am to 4 pm Tuesday, Thursday & Saturdays. Check our home page for any exceptions.
The library is located in the Medure Annex Building at the Lawrence County Historical Society (see map at bottom of page). Our helpful and friendly staff will gladly assist you in your research.
We currently offer a searchable index of the Lawrence County Historical Society's Immigration Collection's Declarations of Intention for the Court of Common Pleas in Lawrence County, Pennsylvania.
Period covered
October 22, 1906 to July 13, 1972
Our Research Finding Aid Features
Lawrence County Will Books
Immigration Records
Cemetery Records
Marriage Records
Military Records
Deeds
County History
Maps of the County from 1885-1931
City Directories
Yearbooks from local schools
Reference Works
We have assorted materials on the following topics
Cascade Park
Shenango China
Ira D. Sankey
James Reeb
The Kurtz Family
The Greer Family
Labor Unions
and much more…
Who Comes To Us For Research?
an environmental scientist needing historical information about some properties
families seeking property information
researchers needing collateral verification of information
folks interested in Shenango China
students learning about their local history
people trying to locate gravesites
those needing information about immigrants, executors, marriage records, wills, deeds, etc.
Here's An Example of Our Research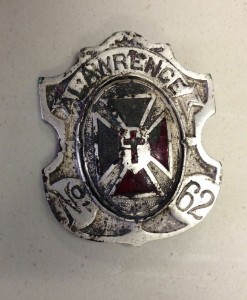 Many people bring items to the Historical Society in hopes of having them identified and dated. While we are not always successful, we were able to help identify this object.
August 15, 2014: A member of the Tri-County Metal Detector Club found this belt buckle in a field in Union Township. Fellow "detectors" believed it to be related to a fire department because of the Maltese cross. However, after a few hours of research we were able to inform them that the artifact relates to the Lawrence Commandery, No. 62 of the Knights Templar – a philanthropic Masonic group limited to Freemasons who profess a belief in the Christian religion.
Based upon old photographs, it is estimated that this style of buckle was in use as early as the 1880's. Commandery No. 62 was operating in the County as early as 1883 and is still active today.
Medure Building of the Joseph A. Clavelli History Center.
408 North Jefferson Street, New Castle PA 16101