By Betty Hoover DiRisio, LCHS Volunteer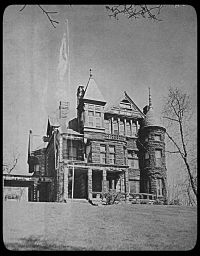 Who hasn't seen this "castle" high on the hill on North Jefferson St. in New Castle? The stone structure was built in 1890 for businessman, Leander Raney.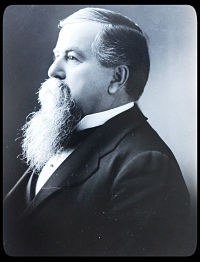 Both the castle and Lee Raney hold prominent places in Lawrence County's History. Raney was the only son of James and Sarah Park Raney. He was born in Edinburg, PA on March 11, 1837. His father owned a milling business in Mahoningtown, where his parents took up residency. He grew up learning the trade and before turning of age, he assumed full charge of and purchased his father's mill. The greater part of his business life was spent in the roller milling business, building mills and producing flour, feed and grain at Steubenville, Edinburg and two in Mahoningtown. In addition to the mills, he had been connected with other industrial interests. Raney was a partner in the Raney-Berger Furnace Company, a partner in the erection of the Aetna Furnace, and partner in the formation of the Crowther Iron Company. He was one of the original partners in the New Castle Hall and Market Company, in the New Castle Park Association and in the New Castle & Franklin Railroad. He served for a considerable amount of time as a member of the New Castle City Councils. Raney also had an interest in the old bank of New Castle. He was a member of the First Presbyterian Church and a prominent Mason, belonging to Mahoning Lodge No. 243, F&AM to the Delta Chapter, No. 170, and to Lawrence Commandery, No 62, Knights Templar.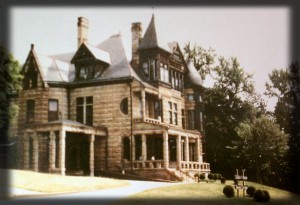 In 1907 the property was considered as part of a potential site for the soon to be built new high school. On October 2, 1907, Raney sold this beautiful home and property to another very prominent citizen, banker David Jameson. The sales price was undisclosed. Raney and his wife, Hannah, moved to Cleveland where he and his son, Lee M. Raney had begun an enameling business. Lee Raney died on November 29, 1907 leaving behind his wife, his son and daughter Elizabeth Raney Kirk. Elizabeth had remained in New Castle.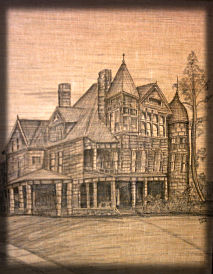 Jameson repaired and remodeled the house and he and his family moved into it in February 1908. It changed hands numerous times over the past one-hundred years, serving at times as an assisted living center and child care facility. In 1998 it suffered a fire and had been boarded up for a number of years. Its current owners are in the process of restoring the structure with plans to turn it into an events center.
See Historical Homes Tour
www.lawrencechs.com/tours/historic-home/