By LCHS volunteers Betty Hoover DiRisio & Kathleen A. Mooney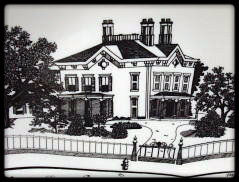 The Georgian style home, owned by Davis B. and Julia Kurtz, was located on the corner of Croton and East Washington Streets in New Castle. This elegant canal style structure was such a well-known landmark that the Historical Society featured it in our Landmark series of collectibles. Noteworthy features included columned porches, port-hole windows, long rectangular shutters and an ornate wrought iron fence. It was demolished in 1963 for off-street parking.
[spacer size="5″]
Did you know there were other Kurtz mansions?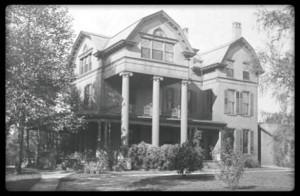 We uncovered a photo of one built in 1896 by Edward Thompson (E.T.) Kurtz, brother of Davis B. Kurtz. Like his bother, E.T. was an attorney and served for a number of years as a director of the Citizen's National Bank. Located on one and a third acres on Kurtz Place just above the courthouse, this palatial residence had 12 large rooms and a ball room on the third floor.
After changing hands at least once, the property was taken over by the county for delinquent taxes. It remained vacant for a time and was vandalized. To prevent further damage it was rented out as a family residence for a few years. In May 1948 the county commissioners considered the property a headache and decided to raze it.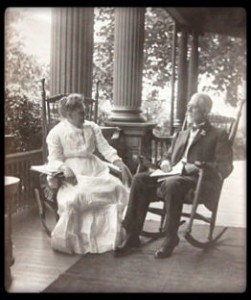 Photos: Mr. E.T. and Ella Frampton Kurtz on front porch; The Kurtz home