By Betty Hoover DiRisio, LCHS Volunteer
This home sits at the corner of Highland and Lincoln Avenues across from the Scottish Rite Cathedral. It was constructed in 1895 for Matthias Holstein Henderson (1845-1908) and his wife Lucy Bower Henderson. Lucy was the daughter of John Bower (1821-1906), a prominent tailor and shop owner of New Castle.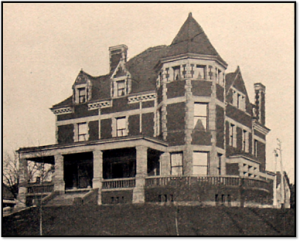 Matthias Holstein Henderson was raised by his uncle, Branton Holstein Henderson, after the deaths of both of his parents. Branton was originally a resident of New Castle running a dry goods store before and after the civil war. He became interested in the development of the coal fields in 1865 and had been largely interested in the iron business. In 1868 he organized the firm of Henderson, Allen & Co., who built the Allen furnace, later known as the Henderson furnace, at Sharpsville.
Matthias and his uncle had an especially close relationship. As a young man Matthias worked at Branton's store, and would later follow his uncle in other professional and personal pursuits. Branton had moved from New Castle to Sharon in 1871 after the death of his mother, taking Matthias with him. In 1872 he was one of a company who established the Spearman furnaces of Sharpsville. He 1873 he became connected with the First National Bank of Sharon, at one time serving as vice-president, while his nephew had interests in the Sharon National Bank from the time of its organization in 1875. Both were also prominent Freemasons, with Matthias reaching the rank of Grand Master.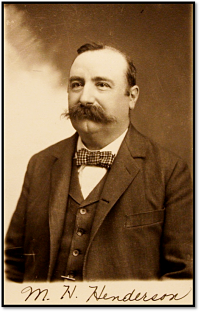 Branton died in 1894 leaving his entire estate to Matthias. The following year Mr. & Mrs. M. H. Henderson, who had been living in Sharon since their marriage, moved back to Lawrence County and into this mansion. In New Castle, Matthias owned M. H. Henderson Block at the corner of Washington and Mercer Streets and had interests in Citizens' National Bank and Lawrence Savings & Trust, serving as a director of both. He died in 1908. Lucy remained in New Castle and was involved in many charitable associations. She died in February 1938 at
the residence.
Florence, the daughter of Matthias and Lucy Henderson, resided in the home for about ten years after her mother's death and in September 1948 sold the mansion to a prominent dentist, Dr. John A. Meehan and his wife. In 1954, their son, John A. Meehan, Jr., opened the "John A. Meehan Jr. Funeral Home" at the residence. John Jr. would soon become County Coroner, a position he held for many, many years.
See Historic Homes Tour
Henderson / Meehan House: www.lawrencechs.com/tours/historic-home/
John Bower Hose: www.lawrencechs.com/tours/historic-home/#John Bower