Second World War (WWII) Roll of Honor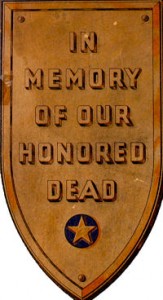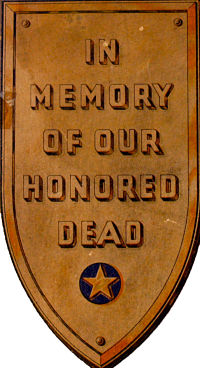 We have missing photos of the WWII Roll of Honor soldiers. Do you have one to contribute?
Our World War II (WWII) Roll of Honor was established through the following research
Memorial Wall at Lawrence County Courthouse

National Archives listing of deaths from Lawrence County
Souvenir program, Military Order of the Cootie Shenango Pup Tent No. 25
Historical society's website listings
Soldiers confirmed as Beaver county residence are no longer listed here
Names marked with an * do not appear on the Lawrence County World War II Memorial Wall
ROW 1
Marshall Abraham
George P. Adams
Ronald A. Alborn
ROW 2
Dennis A. Allshouse
Stephen J. Alusik
Robert Andreas
ROW 3
Raymond J. Andrechik
Max Aronson
Ray H. Atkinson*
ROW 4
Chester Babcock
Charles Bailey
T. Ralph Baird
* Name does not appear on the Lawrence County World War II Memorial Wall
ROW 1
Richard W. Baker
Charles Balutes
Sheldon E. Barbour
ROW 2
Samuel B. Barr*
Mont D. Baughman
Glenn F. Baxter
ROW 3
Henry W. Bell
Dominick Bellissimo
Herman E. Berendt
ROW 4
John Charles Bertolino
James W. Bevan
Mike Bigley
* Name does not appear on the Lawrence County World War II Memorial Wall
ROW 1
James C. Blanning
Joseph L. Bloise
Merrill F. Bluedorn
ROW 2
Alfred Boggs
Walter D. Bookamer
Thomas Herbert Boots
ROW 3
Franklin C. Bowers
David R. Bradford, Jr.
John B. Brettell
ROW 4
George I. Brown
Steve J. Buccia*
Hyman Buntman
* Name does not appear on the Lawrence County World War II Memorial Wall
The following format is in revision - updates pending soon. This is a work IN PROGRESS
Second World War (WWII) Roll of Honor
Mansfield F. Burris
Stephen J. Busin
Joseph C. Caiazza
Jack O. Campbell
William P. Campbell
Joseph A. Capitolo
Michael Capp
Samuel Caravella
Charles William Carbeau, Jr.
William Joseph Carlin, Jr.
Attillio Castrucci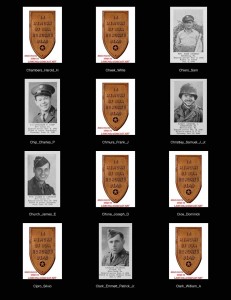 Harold H. Chambers
Willis Cheek
Sam Chiero
Charles P. Chip
Frank J. Chmura
Samuel J. Christley, Jr.
James E. Church
Joseph D. Cifone
Dominick Cioe
Silvio Cipro
Emmett P. Clark, Jr.
William A. Clark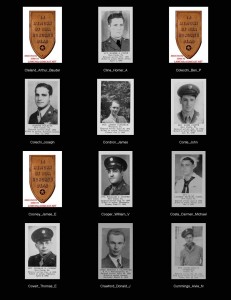 Arthur Bauder Cleland
Homer A. Cline
Ben P. Colecchi
Joseph Colechi*
James Condron
John Conte
James E. Cooney*
William V. Cooper
Carmen Costa
Thomas E. Covert
Donald J. Crawford
Alvie N. Cummings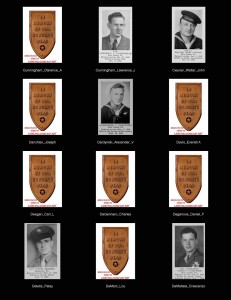 Clarence A. Cunningham
Lawrence J. Cunningham
Walter J. Cwynar
Joseph Danchiso
Alexander V. Dardynski
Carl L. Deegan
Charles Degennaro
Daniel F. Degenova
Patsy Deletis
Lou DeMarc
Chris P. DeMatteis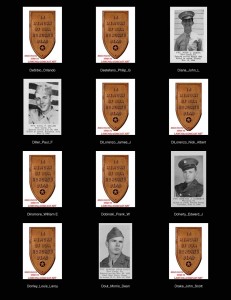 Orlando DeSibio
Philip G. Destefano
John L. Diana
Paul F. Diller
James J. DiLorenzo
Nick Albert DiLorenzo
William E. Dinsmore
Frank W. Dobinski
Edward J. Doherty
Louis Leroy Donley
Morris Dean Dout
John Scott Drake, Jr.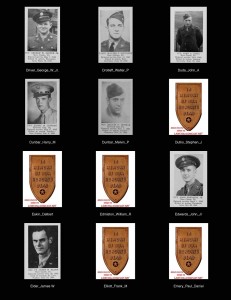 George W. Driver, Jr.
Walter P. Drotleff
John A. Duda
Harry M. Dunbar
Melvin P. Dunbar
Stephen J. Dutko
Delbert Eakin
William R. Edmiston
John Edwards, Jr.
James W. Elder
Frank M. Elliott (click for more information)
Paul Daniel Emery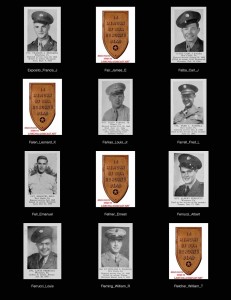 Francis J. Exposito
James E. Fair
Carl J. Falba
Leonard K. Falen
Louis Farkas
Fred Farrell
Emanuel Fell
Ernest Fellner
Albert J. Ferrucci
Louis A. Ferrucci, Jr.
William R. Fleming
William T. Fletcher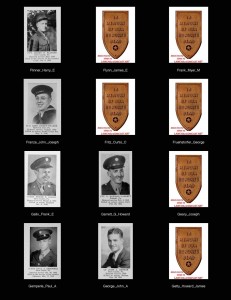 Harry E. Flinner
James E. Flynn
Myer M. Frank
John J. Franze
Curtis C. Fritz
George Fruehstorfer
Frank E. Gallo
Howard G. Garrett
Joseph Geary
Paul A. Gemperle
John A. George
Howard James Getty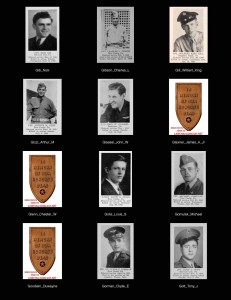 Nick Gib
Charles L. Gibson
Wilbert K. Gill
Arthur M. Gizzi
John W. Glassel
James A. Glaxner, Jr.
Chester W. Glenn
Louis C. Golis
Michael Gomulak
Duwayne Goodwin
Clyde Elmer Gorman
Tony Gott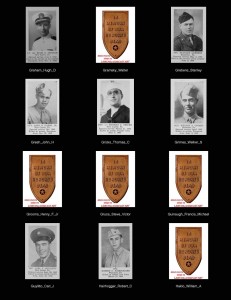 Hugh D. Graham
Walter Gramsky
Stanley Grebens
John H. Gresh, Jr.
Thomas C. Gricks
Welker S. Grimes
Henry F. Grooms, Jr.
Steve Victor Gruca
Francis Michael Guinaugh
Carl J. Guylitto
Robert C. Hairhoger
William A. Haklo*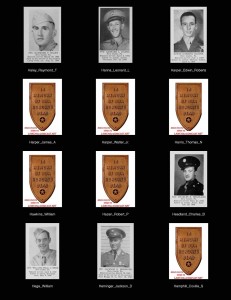 Raymond T. Haley
Leonard L. Hanna
Edwin Roberts Harper
James A. Harper
Walter Harper, Jr.
Thomas N. Harris
William Hawkins
Robert P. Hazen
Charles Bruce Headland
William C. Hege
Jack Heminger
Colville S. Hemphill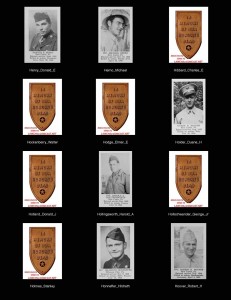 Donald E. Henry
Michael Herno
Charles E. Hibbard
Walter Hockenberry
Duane H. Holder*
Donald J. Holland*
Harold A. Hollingsworth
George Hollschwander, Jr.
Stanley Holmes
Hildreth C. Honneffer
Robert H. Hoover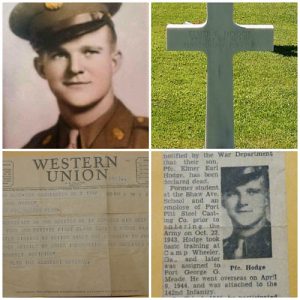 Elmer Earl Hodge: Photo  /  Western Union Telegram  /  News Article  /  Cemetery Cross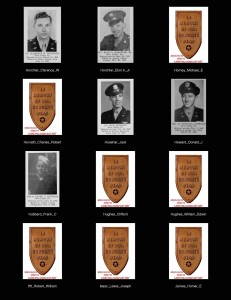 Clarence W. Horchler
Elon A. Horchler, Jr.
Michael E. Horney
Charles Robert Horvath
John P. Jack Hosehar
Donald J. Howard
Frank C. Hubbard
Clifford Hughes
William Edwin Hughes
Robert William Ifft
Lewis Joseph Isaac
Homer E. James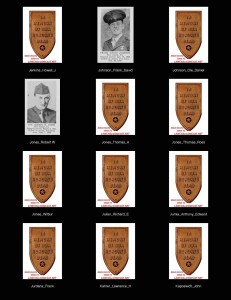 Howell J. Jenkins*
Frank D. Johnson
Ole Daniel Johnson
Robert W. Jones
Thomas A. Jones
Thomas Ross Jones
Wilbur Jones
Richard E. Julian
Anthony Edward Jumia
Frank Jurdana
Lawence H. Kahrer
John Kapcewich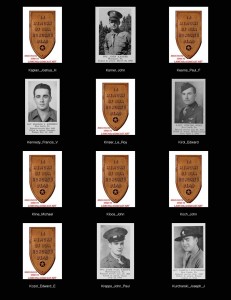 Joshua H. Kaplan
John Karner, Jr.
Paul F. Kearns
Francis V. Kennedy
Le Roy Kinser*
Edward A. Kirol
Michael Kline
John Kloos
John Koch
Edward E. Kozol
John P. Krepps
Joseph Kucharski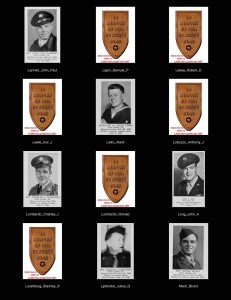 John Paul Lannert
Samuel P. Lapin
Robert D. Leese
Ivor J. Lewis
Aleck Lisko
Anthony J. Lobozzo
Charles J. Lombardo
Romeo Lombardo
John A. Long
Stanley S. Luxenburg
Julius G. Lyshooka
Bruno Macri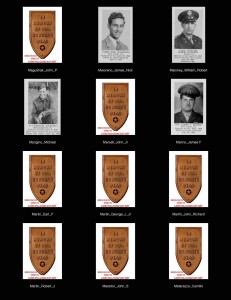 John P. Magushak*
James Nick Maiorano
William Robert Maloney
Michael Mangino
John Marcell, Jr.
James J. Marino
Earl F. Martin
George J. Martin, Jr.
John Richard Martin
Robert J. Martin
John S. Mastcko
Camillo Matarazzo
Henry M Mateja
Richard E. McAnany
Donald G. McCandless
Francis H. McClain
John W. (Jack) McClurg
Joseph C. McConaughey
Glenn H. McConnell
Ralph L. McConnell
Thomas L. McCreary
Franklin R. McCune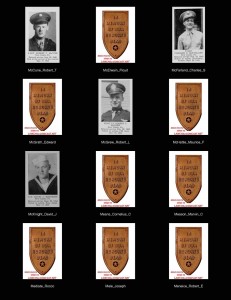 Robert L. McCune
Floyd McElwain
Charles S. McFarland
Edward McGrath
Robert L. McGrew
Maurice F. McHattie
David Junior McKnight
Cornelius C. Means
Marvin C. Meason
Rocco Mediate
Joseph Mele
Robert E. Meneice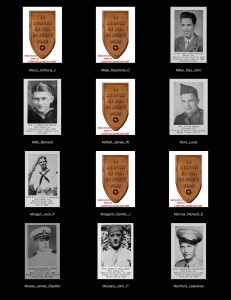 Anthony J. Micco
Raymond C. Miles
Ray John Miller
Bernard Mills
James W. Moffatt
Louis Mora
Camillo J. Morganti
Richard E. Morrow
James Stauffer Moses
John P. Mulcahy
Lawrence Mumford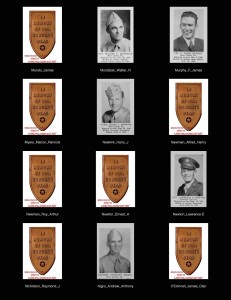 James Mundo
Walter R. Mundziak
Frank J. Murphy
Marion Rennick Myers
Harry James Newkirk
Alfred Henry Newman
Roy Arthur Newman
Ernest H. Newton
Lawrence E. Newton
Raymond J. Nicholson
Andrew A. Nigro
James Clair O'Donnell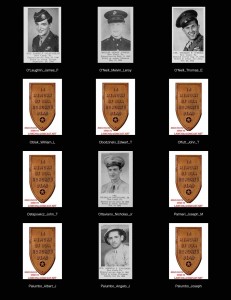 James F. O'Laughlin
Melvin L. O'Neill
Thomas E. O'Neill
William L. Oblak
Edward T. Obodzinski
John T. Offutt
John T. Ostapowicz
Nicholas Ottaviano, Jr.
Joseph M. Palmeri
Albert J. Palumbo
Angelo Palumbo
Joseph M. Palumbo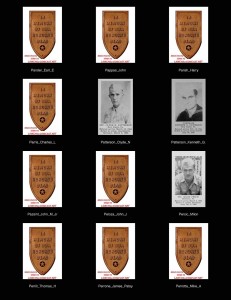 Earl E. Pander
John Pappas
Harry Parish
Charles L. Parris
Clyde N. Patterson
Kenneth G. Patterson
John M. Pazsint
John J. Peloza
Milon/Milan Percic
Thomas H. Perrill
James Patsy Perrone
Mike A. Perrotta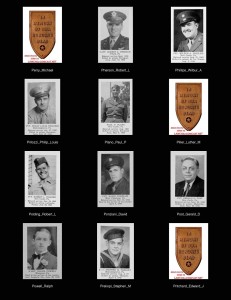 Michael Perry
Robert L. Pherson
Wilbur A. Phillips
Philip Louis Pirlozzi
Paul P. Plano
Luther M. Pliler
Robert L. Polding
David Ponziani
Gerald D. Post
Ralph Powell
Stephen M. Prekopi
Edward J. Pritchard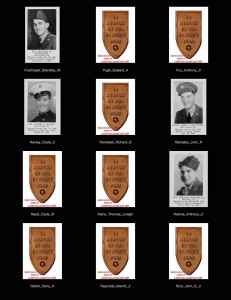 Stanley W. Puchlopek
Edward A. Pugh
Anthony Puz, Jr.*
Clyde C. Rainey
Richard B. Ramsdell*
John R. Ratvasky
Clyde M. Reed
Thomas Joseph Reino
Anthony Retone, Jr.
Harry H. Retort
Merritt Reynolds, Jr.
John S. Ricci, Jr.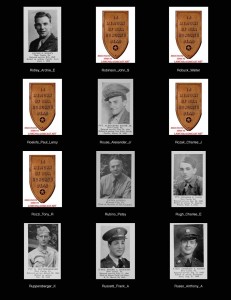 Archie C. Ridley
John S. Robinson
Walter Robuck
Paul Leroy Roelofs
Alexander Rouse, Jr.
Charles J. Rozak
Tony R. Rozzi
Patsy S. Rubino
Charles E. Rugh
Kenneth Ruppersberger
Frank A. Ruscetti
Anthony A. Russo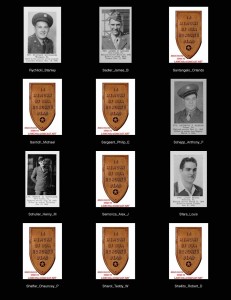 Stanley Rychlicki
James B. Sadler
Orlando Santangelo
Michael Santich
Phillip E. Sargeant
Anthony L Schepp
Henry M. Schuller
Alex J. Semonza
Louis Sfara
Chauncey P. Shaffer
Teddy W. Sharol
Robert D. Shellito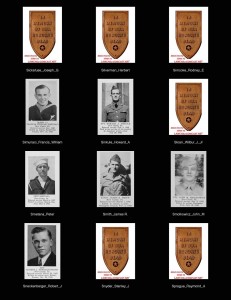 Joseph G. Sickafuse
Herbert Silverman
Rodney E. Simcoke
Francis W. Simunaci
Howard A. Sinkule
Wilbur J. Sloan, Jr.
Pete Smetana
James R. Smith
John M. Smolkowicz
Robert J. Sneckenberger
Stanley J. Snyder
Raymond A. Spague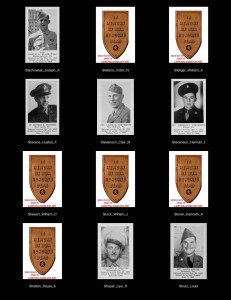 Joseph A. Stachowiak
Victor N. Stefano
William A. Stellger*
Hustus F. Stevens
Clair M.Stevenson
Herman I. Stevenson
William C. Stewart
William J. Stock
Kenneth A. Stoner
Royal A. Stratton
Levi H. Strayer
Louis Strutz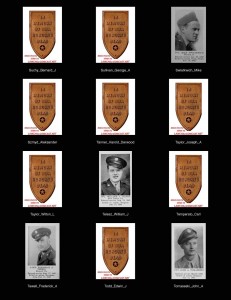 Bernard J. Suchy
George A. Sullivan
Mike Swiatkwich
Aleksander Szmyd
Harold Derwood Tanner
Joseph A. Taylor
Wilton L. Taylor
William J. Telesz
Carl Temperato
Fred Tewell
Edwin J. Todd
John A. Tomaseski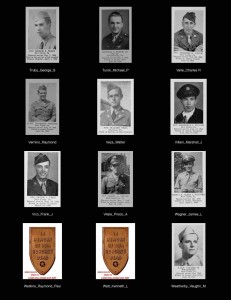 George S. Truby
Michael P. Turok, Jr.
Charles R. Valle
Raymond R. Vernino
Walter Veza
Marshall J. Villani
Frank J. Virzi
Prisco A. Vitale
James L. Wagner
Raymond Paul Watkins
Kenneth L. Watt
Vaughn M. Weatherby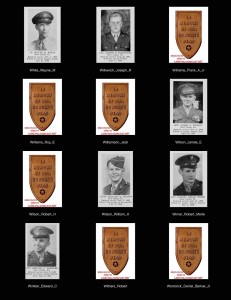 Wayne M. White
Joseph R. Wilkevich
Frank A. Williams, Jr.
Roy E. Williams
Jack Williamson
James E. Wilson
William Henry Wilson
Robert Merle Wimer
Edward C. Winkler
Robert Withers
Daniel Barlow Woolcock, Jr.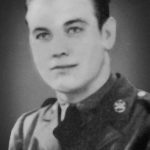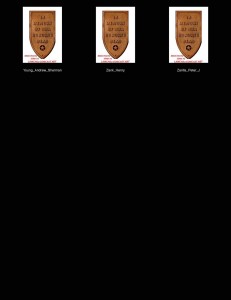 Andrew Sherman Young
Henry Zank
Peter J. Zarilla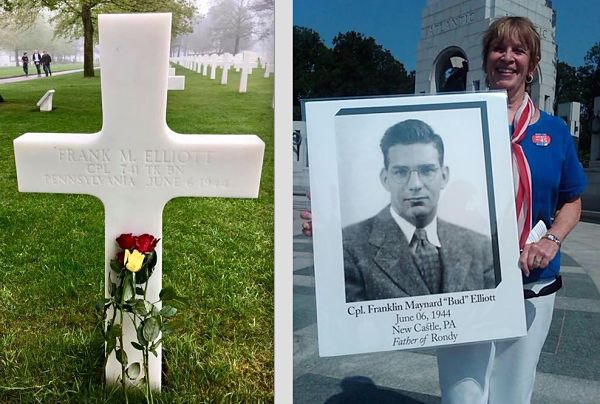 There are many informative articles published about Frank Maynard Elliott, his service and his death. Most memorable letters he wrote to his wife are also available in detail. See the following links.
Second World War (WWII) Roll of Honor
DRAFT SECTION FOR Revised format - a work IN PROGRESS