PFC EVERETTE A. DAVIS – Netherlands American Cemetery
By Betty Hoover DiRisio (LCHS volunteer)
Every Memorial Day we visit our local cemeteries to honor our men and women who died in the service of our Country. But there are those families who lost loved ones during WWII that are buried across the seas, and who have been unable to decorate their graves. PFC Everette A. Davis is one of those soldiers.
Everett was born in 1923 to Charles and Belle White Davis and went to school in New Castle. Before enlisting in the Army, Everett worked at the National Tube Company in Ellwood City where his father's parents lived. He enlisted in the Army on March 11, 1943 at Erie where his brother and father were then living. (Everett's parents had divorced and his mother Belle later married George Dean.) During the war he joined the 92nd Chemical Battalion, Company B. He was struck by fragments of a highly explosive artillery shell in November 1944 and died in Engelsdorf, Germany. Not allowing our soldiers to be buried on German soil, his body was transported to the Netherlands for burial. PFC Everett A. Davis received posthumously both the Purple Heart and the Presidential Citation that were presented to his mother, Mrs. George Dean.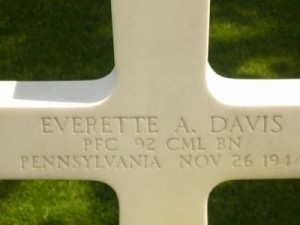 But Everette, who now rests with 8,301 other American soldiers at the Netherlands American Cemetery and Memorial in Margraten, hasn't been alone all of these years. In 1945 inhabitants of the Dutch village of Margraten, that housed and fed many of our boys during the war, were sickened seeing thousands upon thousands of dead soldiers, many of whom they had known, en route to the cemetery. Feeling a duty to honor our soldiers, they initiated a grave-adoption program. With gratitude, they wanted to be able to do for these men that which these young soldiers' mothers, fathers and wives could not.
Several times a year they visit our dead and scrub the crosses that mark their final resting place. They lay flowers in their honor in profound appreciation of their liberators' ultimate sacrifice, given so that their families could live in freedom. While Everette's family was never able to kneel at the foot of his grave, for nearly 70 years three generations of the Köster family have done so in their stead. August Anton Köster and Anna Oud-Köster adopted Everette's grave directly at the beginning of the adoption program in 1945. Their children and grandchildren would accompany them on their numerous visits every year. When August and Anna died, their son and his wife, Hans Köster and Gustel wolters-Köster assumed the role. In 2007 responsibility was taken up by their son, Alex. Alex has a six-year old son who now accompanies his father to Margraten and will no doubt take over the perpetual care of Everette when the time comes.
This Memorial Day in addition to remembering and honoring our fallen soldiers, let us also say "thank you" to those who kneel in our place.
(Alex Köster has contacted the Lawrence County Historical Society in search of Everette's relatives. If you are related to PFC Davis and would like to be in touch with his caretakers, please contact us.)