DAYS OPEN: Tuesday, Thursday & Saturday from 11 am to 4 pm. For details, visit our contact us page.
World War II Traveling Exhibit - We Can Do It!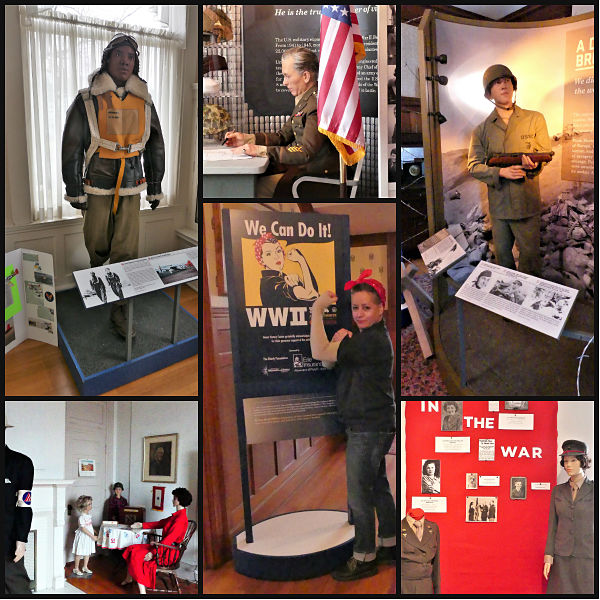 A MUST SEE EXHIBIT - NOW through May 21 - every Tuesday, Thursday and Saturday 
OPEN to the PUBLIC. FREE to Children.
Don't miss out on this special offering.
READ more about it here. See the SCHEDULE, DISCOUNTS AND MOVIE SHOW TIMES.
2019 Civil War Series - Trip to Gettysburg
Registration opens April 1, 2019 at 5:00 pm to all Lawrence County 5th and 6th grade students. Our three-week Civil War Series  (June 11 – 27) includes engaging re-enactors, interactive classes, and a June 29 trip to Gettysburg National Military Park for a personal tour of the Civil War battlefield.
Help Support the Lawrence County Historical Society
When you shop through our Amazon Smile link, the AmazonSmile Foundation donates 0.5% of the price of eligible purchases to the Historical Society.
And at no extra cost to you.
All monies are used to help support our volunteer organization. Thank you for your support.


Shenango China
The Lawrence County Historical Society has the largest collection of Shenango China in the world. The men who started the first potteries in New Castle did so, not because of any clay deposits in the area, but rather because of the soft coal available which was used to fire the beehive Rims of that time. More than 500 of our 3,000-plus pieces are on display in our museum.
RENT THE MANSION FOR YOUR SPECIAL EVENT
Did you know you can rent the Historical Society Mansion! Members of the Society receive a discount. 
Our historic mansion is available for a variety of special events (showers, parties, small weddings, etc) or for picture-taking. Take an online photo tour of our museum to experience the beauty and elegance of this 1905 Colonial Revival building and the period furnishing throughout. Contact us for rental information and availability.
We Appreciate Your Support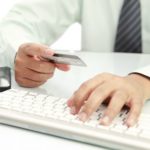 Help support our nonprofit society and nonprofit volunteerism. All donations are tax deductible to the fullest extent of the law. You are invited to make a donation in any amount you choose. Any and all support is welcomed and always appreciated. 100% of every donation is used to help support our volunteer organization. Lawrence County Historical Society is a tax exempt, charitable 501(c)(3) organization.
FEATURED DVD: Portrait of An American City: 200 Years of New Castle History
INCLUDES early Native American settlements, plotting of the land, canal era, Civil War, heavy industrialization, labor strife, immigration, urban renewal and the reawakening and gradual rebirth of neighborhoods and downtown. To learn more, visit our DVDs FOR SALE.
NOW Available - 4 DVD programs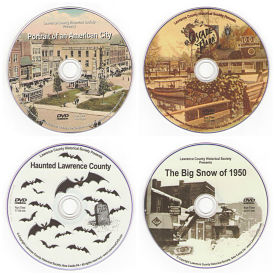 Read more in our ONLINE eSTORE. Our DVDs include: Portrait of an American City features 200 years of New Castle History / Cascade Park describes its origins and historic features / Haunted Lawrence provides a "chilling" tour of local folklore and intrigue. A great addition to your Halloween activities / The Big Snow of 1950  (our best seller) recounts a snowfall that caused almost everything in Lawrence County to shut down. It remains the largest snow storm on record in our area.
Photo Credits: "Donate" image courtesy of Naypong at FreeDigitalPhotos.net