Downtown Walking Tour (New Castle, PA)
John Carlysle Stewart wanted to lay out New Castle somewhat after the plan of Philadelphia The two main streets he named Washington and Jefferson. Where the two streets crossed he laid out a "Diamond." At various times the name of the Diamond has been changed. At one time it was Central Square, and following World War I, it was named Pershing Square. After the assassination of President John F. Kennedy, it was named "Kennedy Square."
In 1846, a brick market house was built on the Diamond. The market house was thirty by seventy feet and stood near the center. There farmers could haul in their produce and water their horses. The market was later abandoned. In 1886, the Ladies Park Association was organized for the purpose of beautifying the public square, which as one member put it was "as desolate as the Sahara". On May 10 of that year, the City Council passed an ordinance giving the square to the Association for the purpose of making and maintaining a public park and adorning it with walks, flowers, shrubbery, and grass. At a cost of nearly $4,000 the cobblestones were torn up, soil was procured and properly graded, and a curbing of cut stone was built entirely around it, leaving a………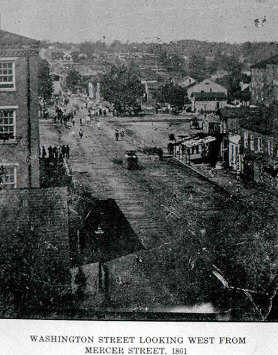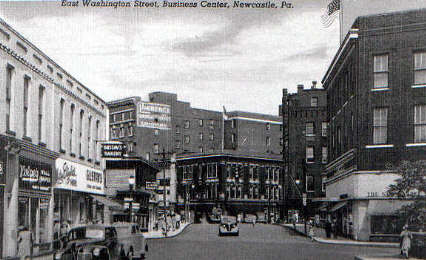 American Newstand. This is where everyone brought their horses for water before starting on the long trek home.
By 1891, the Association had begun raising money for a monument to commemorate the soldiers who had died during the Civil War. In 1893, the granite for the monument was shipped from Quincy, Illinois, and work was begun. The monument was finished in 1896, and on December 15, 1897, the statue was placed on the top. A cannon was placed in the park and later a plaque with the Gettysburg address was placed by the monument. There are now stone monuments to the men who served in the Spanish-American War and World War I. In the 1960's the flowering trees were planted and the fountain was dedicated. There are plans to plant new trees on the square and to replace the sidewalks and curbing.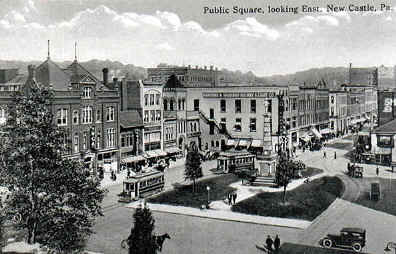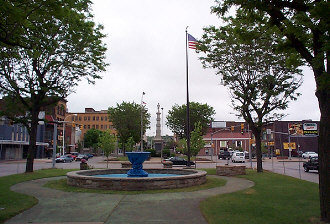 The Behm Studio is another example of sensitive restoration. Located in the former Kirk-Hutton Building, a landmark in New Castle for over 100 years, The Behm Studio has retained the ambiance of the old store while changing it to a lovely warm photographic studio. Kirk-Hutton started with a small store to the rear of the well-remembered red sandstone masonry and curved bay windows of the 1893 building.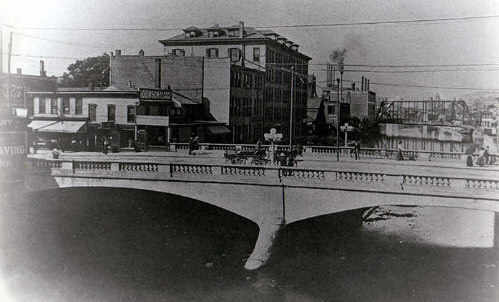 OLD POST OFFICE & OLD PUBLIC LIBRARY
The old Post Office and the old Library are excellent examples of Beaux Arts style federal buildings. Beaux Arts was a widely used style for government buildings because of our identification with the civilizations of ancient Greece and Rome. From Greece we derive not only a pillared, balanced symmetrical architectural form, but also a concept of participatory democracy. From Rome we derive, not only the grandeur of the repeated arch in architecture, but also a concept of enduring strength of empire.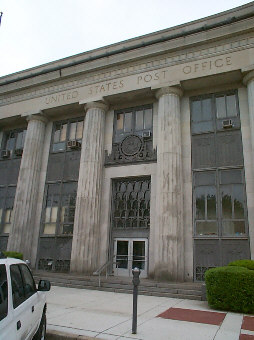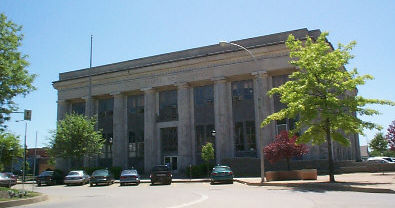 The old library building was designed in 1904 as a federal Post Office. In 1934 the W. G. Eckles Company designed the conversion of the Post Office to a public library. Renamed the Olde Library Office Complex, it is another fine example of a building restored, preserved and adapted for commercial purposes.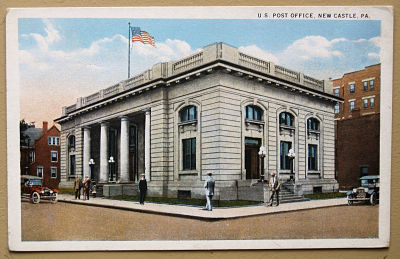 OTHER NOTEWORTHY DOWNTOWN SITES
St Mary's Church (Gothic Revival, built in 1925)
124 N Beaver St, New Castle PA 16101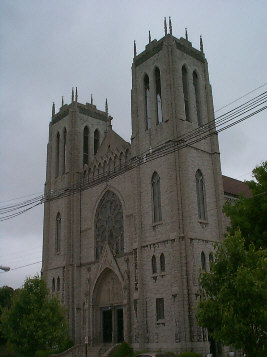 First Presbyterian Church (SW Foulke, Architect, 1892-1896)
125 N Jefferson Street, New Castle PA 16101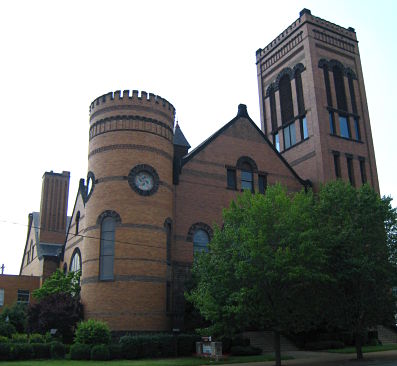 Lawrence County Court House (Greek Revival, built 1850-52)
430 Court St, New Castle PA 16101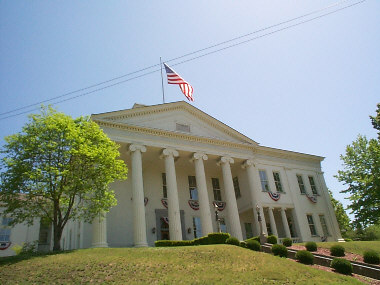 Available for purchase online or in our onsite gift shop
(only Tue, Thur, & Sat)
Destruction of entire city block in downtown New Castle PA (circa 1975)
including the demolition of the Lawrence Savings and Trust Building (125 East Washington Street)