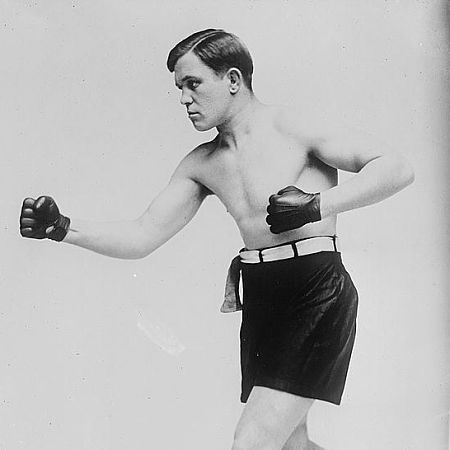 With his prowess with his fists, George Chip of New Castle won a world boxing championship. On October 11,1913, Chip won the world middleweight title by knocking out Frank Klaus, the East Pittsburgh "Bearcat." Some writers considered the knockout a fluke, but when they were rematched on December 23, Chip repeated the feat, knocking out Klaus in five rounds. He lost the title a short time later to Tim McKoy.
Crowds sometimes exceeding 3,000, and coming from as far as Cleveland and Pittsburgh, watched professional boxers go against each other at the Monday night fights at the Jolly Bowl in 1928-30. Built by Bill Jolley, a fight promoter, the Jolly Bowl was shut down in the early 1930s for a street-paving project and never reopened. Fights were later held by promoter Tommy Leach at the Arena on Grove Street. The Arena burned in 1950.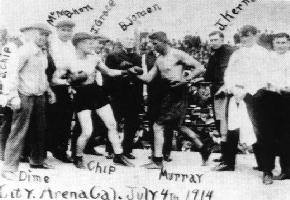 In the above photo, George Chip squares off with a fighter named Murray on July 4, 1914.
At left is Chip's trainer and manager, Jimmy Dime.
Behind Dime is the champ's brother Joe Chip, also a fighter.