| SHOP HOME | Tickets | New Items | Books | Membership | Donations |  Audio CDs | Collectibles | Games | Shipping/Returns
---
---

Audio CDs and Audio Cassettes featuring bands and music of historical interest and significance to Lawrence County in Western Pennsylvania.
To order, use our Add to Cart buttons!
To order, click on ADD TO CART button. Shopping Cart will display at top of page only when items have been added to the cart. Items also available for purchase at our on-site Gift Shop.
Shipping fees are valid only to USA addresses. If shipping to a foreign address, we reserve the right to charge additional shipping fees (please contact us first).
St. Margherita Blue Coat Band (Audio CD) – SOLD OUT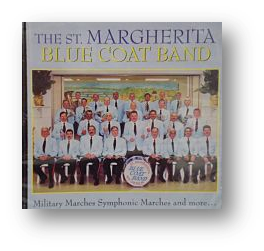 Blends ethnic and traditional music and plays at concerts, parades, and festivals. Includes musicians from New Castle, Sharon, and Youngstown area. This contemporary band had a recent performance Memorial Day 2010 in Mahoningtown, PA
The St Margherita Blue Coat Band was organized in 1950 for the purpose of playing the annual Feast in Mahoningtown, Pennsylvania. The St Margherita Mutual Beneficial Society provides their rehearsal hall, music, uniforms and any other monetary support.
14 Tracks • Songs include
1) Military March 19 2) Symphonic March 10 3) The Godfather Trilogy 4) Inglesina (Little English Girl) 5) Sinatra in Concert 6) Venditori di Fumo 7) Military March 8 8) Military March 9 9) Funiculi Funicula 10) Valdres 11) Italian Popular Songs 12) Clarinet Polka 13) Zabetecas 14) Italian Festival
Product Name: Blue Coat Band CD
Price: 5.99

Ira D. Sankey Sesquicentennial Celebration: 1840-1990 (on cassette)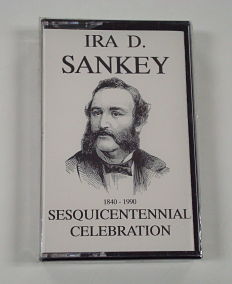 Please note that the Ira D. Sankey Sesquicentennial Celebration program is currently only available on audio cassette.
Choral music recorded in New Castle, Pennsylvania.
Hymns include:
Words of Cheer
I Am Praying For You
Ten Thousand Times
When the Mists Have Rolled Away
Welcome Wanderer Welcome
All All is Well
and more …
Product Name: Sankey Sesquicentennial CD (1840-1990)
Price: 4.99

La Banda Rossa (audio CD) – ONLY 2 REMAINING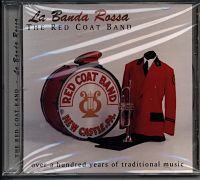 Audio CD Played by an Italian ethnic band from New Castle, Pennsylvania which was originally formed in the late 1880's.
This all volunteer band plays over 100 years of traditional music.
17 Tracks • Includes:
Roma immortale marcia militaire / D. Pancaldi (2:45)
Chaplain Brennan march / F. Zangari (4:00)
Neopolitan overture / Arr. E. Osterling (6:00)
Centennial march #9 / B.J. Biondi (3:15)
V.V. march #8 / B.J. Biondi (2:45)
*Bugler's holiday / Anderson/Edwards (Chris Masi, Jesse Croach, Mike Mazzocco) (2:30)
Marcia symphonica / G. Iasilli (3:50)
Poplarita marcia militare #150 / P. Vidale (3:50)
Prelude to act I La Traviata / Verdi/Arr. Falcone (3:25)
Sunny Italy / Arr. J. Miller Hahn (5:15)
Mon ami march #5 / B.J. Biondi (3:50)
*Veni sul mar / Arr. Dante DiTomaso (Angie Munno Augustine, vocalist) (2:00)
Chitarra Romana / Arr. Ralph Gaspare, Jr. (Angie Munno Augustine, vocalist) (4:30)
*Highlights from My fair lady / Arr. C. Paul Herfurth (5:00)
II bersagliere / E. Boccalari (2:30)
March #58 transformation / B.J. Biondi (2:30)
The galop / B.J. Biondi (2:30)
Recorded at Rosewood Studios, New Castle PA, April 8, 2001
Conductor: Thomas Zumpella
Product Name: La Banda Rossa CD
Price: 5.99