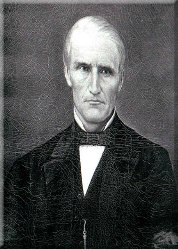 1849: Lawrence County is formed from Beaver and Mercer County March 20
1850: First Court of Common Pleas held in First Methodist Church on South Jefferson Street, New Castle
1852: Lawrence County Court House completed at a cost of $32,000
1852: Westminster College founded in New Wilmington
1852: First McConnell's Mill built
1854: Wil-Roy furnace built in Slippery Rock Township
1855: Bank of New Castle established
1860: Population of County 20,000

The Eagle canal boat on the New Castle Packet line (1860)

1860 (September 8): The Eagle, a new boat on the New Castle Packet line, prepares to leave one of its scheduled stops. Packets, primarily used for passenger service, left the New Castle packet landing at 12 noon and 7:30 p.m., arriving at New Brighton at 7 p.m. and 4 p.m., timed to make connections with trains going east and west.

1864: Villa Maria began by the Sisters of the Humility of Mary on William Merrin farm
1865: President Abraham Lincoln assassinated

The Lawrence Guards at McGuffin's Corner
Photo by John Mitchell

Many communities formed militias. The Lawrence Guards (left) was the first military drill unit formed in New Castle. It was organized in July 1850 by Major W.W. Taylor. This picture was taken by John Mitchell at McGuffin's Corner. Judge L.L. McGuffin is standing in the doorway.


Ira D. Sankey

1866: First limestone quarries opened for by Green, Marquis and Johnson

1867: Shenango Hall (later the Opera House then the Capital Theater) opens on South Mercer Street, New Castle
1874: Wampum Cement and Lime (Shinn Brothers began operation)
1876: Alexander Graham Bell invented the telephone
1882: Water system established in New Castle
1886: The Park Opera House on the Diamond opens

Limestone quarry workers

1887: Bessemer Limestone and Cement started

1889: First electric plant in New Castle & first street car service in New Castle
1891: Elliott Brothers Steel Company established. One of first strip steel mills.
Ellwood City became booming industrial town within a short period of time.
(Photo courtesy of the Ellwood City Ledger)

1892: Ellwood City is created

1892: McKinley Tariff act passed
1893: Greer Tin Mill opens
1893: Fazzoni Fireworks begins operations
1895: First seamless steel tubes in America pierced at Ellwood Weldless Tube
1896: Nancy's Island opened in Pulaski
1897: Cascade Park opens in New Castle
1897: Frank Jongrass hanged at Lawrence County Court house for murdering his fiancée
1898: Spanish-American War
1898: Company B 16th Regiment, Pa Volunteer Infantry, marched down Court House Hill as they departed for war
1899: New Castle treasurer, John Blevins, found murdered in his office at city hall