Charles "Horse" Gillium
In an era when basketball players rarely reached six feet tall, Charles "Horse" Gillium towered over most of his teammates and opponents. Shown with Castle Five teammates Gus Slovonsky (left) and Billy Hood, Gillium palms two balls, a feat few players of his time could do.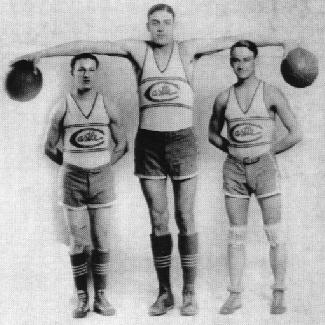 A 1922 New Castle graduate, Gillium also played at Grove City College and for several professional teams – the Syracuse All Americans, Dayton Kellys, Toledo Redmen, New York Celtics and Cleveland Rosenblums. He died of tuberculosis at age 30.
Lawrence County Historical Society Sports Hall of Fame Inductee – 1987
Early Women's Basketball
This girls' basketball team of 1896 is properly dressed for the sport by the style of the times. We do not know the name of the team or any of the players.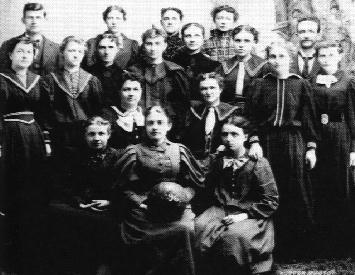 THE HENNON FAMILY
L. Butler Hennon
When L. Butler Hennon was winning basketball games at tiny Wampum High School, his teams attracted not only nationwide curiosity but attention in the Soviet Union as well. Hennon coached from 1933 to 1971, the later years at Ellwood City. His teams won 620 games. Wampum teams won 16 section titles, three state championships, and a record setting 82 consecutive winning games. So accustomed was Wampum to winning that it only celebrated after WPIAL or state championships. Wampum also set a nationwide scoring record in 1959 with a 154-54 victory over Neshannock.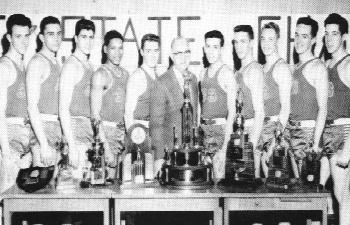 Photo from left to right: Francis Bennett, Eugene Bennett, Joe Schnitski, Bob Mathews, Don Hennon, Coach Butler Hennon, John Melfi, John Grinnen, Eugene Swogger, Tom Galbreath, Gabby McMillan
Hennon adopted some unusual practice techniques, such as having his players wear galoshes, weighted jackets, and workmen's gloves. Dribblers might be half-blinded by taped glasses. Hennon's theory was that such handicaps in practice made things easier in the games. His methods were featured in a January 6, 1958 LIFE magazine picture story (titled: Basketball Training Tricks Help High–Schoolers of Wampum, Pa. Swamp 'em), and later in a periodical in Russia where they were building an Olympic basketball program.
Lawrence County Historical Society Sports Hall of Fame Inductee – 1984
Don Hennon
Admirers who had watched him play muse about how much the three-point rule, which rewards long-distance shooting, would have benefited Don Hennon. He led Wampum to the first of its three state championships in 1955, when the team went 31-0 in its only undefeated season. He set a WPIAL, four-year scoring record (1951-55) of 2,376 points that endured until 1993.
At the University of Pittsburgh Hennon continued his high scoring and ball handling wizardry, and developed a hook shot to combat his taller opponents.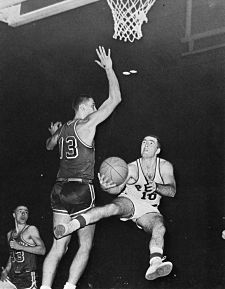 Photo: The University of Pittsburgh Panthers basketball All-American Don Hennon drives around Duquesne University's Bob Slobbodnik during a 71-56 Pitt victory in the Steel Bowl tournament on December 13, 1958.
In 1958, the country's sportswriters and broadcasters selected him for the Associated Press All-American team (Consensus First Team), along with future NBA stars Wilt Chamberlain, Oscar Robertson, Elgin Baylor, and Guy Rogers.
Don Hennon passed up professional basketball to study medicine and is now a surgeon in Pittsburgh.
Lawrence County Historical Society Sports Hall of Fame Inductee – 1984