By Betty Hoover DiRisio, LCHS Volunteer
Located on Harbor Street in New Castle, this home was known as "Birchlawn" (see photo). It was built for industrialist James Andrew Crawford and his wife Eliza Emery Crawford who are also pictured. The house photo was taken about 1894 but the family had been living on Harbor Street much earlier.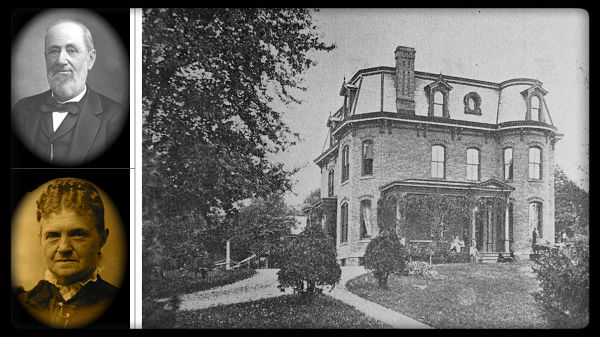 Mr. Crawford and his three brothers were associated in various businesses here in Lawrence County as early as 1841. The Crawford Brothers reportedly appeared in the first City Directory. They operated the earliest furnaces in the vicinity of New Wilmington, where they used the native ores. James A. Crawford was associated with the Etna furnace, the rod and nail mill, Shenango Steel Mill and the Tin Mill. He shipped large quantities of native ore to other points and later when the Lake Superior mines were opened did a large business shipping ore to New Castle. He was one of the incorporators of the Beaver Valley Railroad and was its secretary and treasurer until it's purchase by the Pennsylvania Railroad. The Beaver Valley Railroad was the first railroad built to New Castle and extended from this city to Enon Valley where it joined another line. James was instrumental in the establishment of the first telegraph office of New Castle and his brothers were involved in establishing telegraph lines. He was also one of the pioneer woolen manufacturers of this vicinity and served as a director of the National Bank of Lawrence County.
Bran Pie & Pieces of Gold
During the Christmas holiday in 1898, the Crawfords hosted their annual festivities at Birchlawn for their children, grandchildren and great-grandchildren, twenty-two in number. After enjoying a six course meal, a bran pie (a Victorian Christmas confection composed of a dish filled with small packages covered with bran) was placed on the table and each one was expected to dig with a tiny shovel for their gift. In addition, each person found, pasted under their chair seats, a piece of gold.
An old tribute to James Andrew Crawford states:
A tenderer heart never beat in the breast of any man. A grand old man, always he loved his fellow-men, and vindictiveness had no part in his make-up. His one great joy seemed to be his benevolence. He found it more blessed to give than to receive, and he was always delighted when he could make another person happy, and he was delighted to open his home to his friends. His home life was beautiful for its simplicity, beautiful for its warm, generous nature. Mr. Crawford was a true man, a wise counsellor, a devoted father and an affectionate husband, and a true believer in the religion of Jesus Christ.
From Home to Health Care
The house together with two acres went up for sale during the depression for $3,750. Birchlawn was at one time considered for purchase by the city for use as a hospital for patients with tuberculosis and other ailments. Later the mansion was considered for use as low-rent public housing site. It was once the home of the H. Clair Matthews family. By 1960 it was being operated as a nursing home by Jack Rees. In the 1980's the facility became the Silver Oaks Nursing Center and continues today as Silver Oaks Health and Rehabilitation Center, operated by Reliant Senior Care.