By Betty Hoover DiRisio, LCHS Board Member & Volunteer
The Theatorium is believed to be the first dedicated movie theater in New Castle. It was opened in December 1905 by a man from Pittsburgh. It was soon taken over by local movie theater pioneer, Mike Marks, and James Caplanis, both Greek immigrants. The two ran the theater from 1906 to 1911 when locals John W. Flanegin and J. M. Shankweiler took over the business with two other partners. One of those other partners was probably Charles Freeman, who was known to have had some interest in the Theatorium. The other partner was most likely Grace Phillips Johnson, who actually owned the building.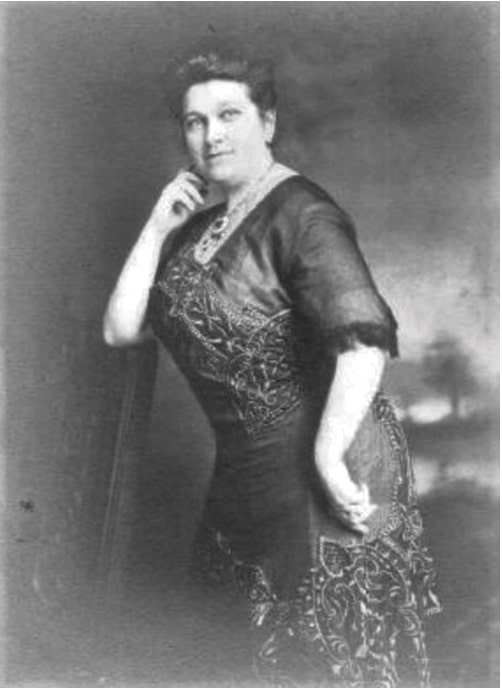 A Woman Who Owned Her Own Property
Quite unusual for the time that a married woman would own her own property. She would be the first, and only known woman, to have been associated with this early entertainment venue. Daughter of wealthy oilman and Congressman Thomas W. Phillips and the wife of the son of wealthy industrialist George W. Johnson, Grace was a philanthropist and active supporter of the First Christian Church.
In 1913 the theater was closed for a time for expansion and renovation. Seating was slightly increased and the facility made fireproof, adding more exits and passing state inspection. An unusual improvement was made: in the event of a fire, a curtain in the rear could be raised by electricity, opening the entire rear of the building for quick exit. The theater reopened in October 1913. In addition to movies, the theater was now also used for lectures. In December, the Rev. Philip S. Thatcher of San Diego spoke on the "New Religion" (Unitarianism).
A Court Battle Ensued
As owner of the theater, Mrs. Johnson along with Flanegin and Shankweiler, as tenants, became embroiled in a legal dispute with Brown & Hamilton, a dry goods company that owned adjoining property. It seems that during the expansion of the theater, Johnson tied into a wall that was owned by Brown & Hamilton. They lost their legal battle, going all the way to the Pennsylvania Supreme Court. They were ordered to replace the wall to its previous condition.
Closed for Good
After doing so, the Theatorium closed its doors for good in April 1916. Book's Shoe Store soon moved into the premises. The space was later occupied by King's Jewelry for many years. The theater was located just East of The Confluence (old J. C. Penney building), and today that lot is part of the outdoor amphitheater of the Cascade Riverplex.
This Blog past was derived with permission from the book Stage and Screen: Playhouses of New Castle, Pennsylvania (Elizabeth Hoover DiRisio 2016). Available for purchase from our online store: https://www.lawrencechs.com/store/books-for-sale-new/
Photo credit: Grace Phillips Johnson, Johnson Family Archives.