By Betty Hoover DiRisio (LCHS volunteer)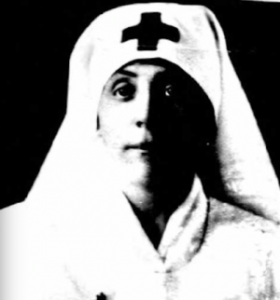 The establishment of the American Red Cross in Lawrence County was due in large measure to the untiring efforts of Mrs. William Wallace Clendenin. When war broke out in Europe in 1914, she organized efforts to collect socks and stockings, to knit other articles and to raise money to send food to Belgium to help alleviate suffering in that country, an early victim of the war. She also led efforts to make dressings and bandages to send aboard.
Clendenin Appeals to Welsh and British Immigrants
Mrs. Clendenin, a native of Britain, was a member of the American Red Cross and the British and French Red Cross Societies as well. She took her appeal to the Welsh and British immigrants on New Castle's south side who were primarily tin mill employees having great empathy for their native land then at war with Germany.
South Side Red Cross Buys Ambulance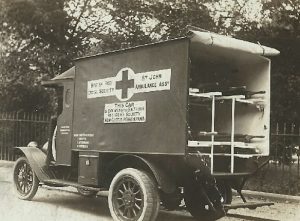 In 1916 funds were raised to purchase and maintain an ambulance in Europe. The ambulance cost 600 pounds and maintaining it for one year, $1,200. On its side was painted a sign reading, "This car is endowed by the South Side Red Cross Society, New Castle, Pennsylvania".
After America's entry into the war in 1917, support increased and the Lawrence County Chapter of the Red Cross was organized April 12, 1917. Membership and funding increased dramatically thereafter. Donald W. Fox, Bridges to the Past
Photo: LCHS Collection