By Betty Hoover DiRisio (LCHS volunteer)
Between 1883 and 1929, 1679 libraries were built in the United States with Andrew Carnegie Library construction grants. In 1900, New Castle requested $75,000 to build a library.
[quote style="1″]Carnegie responded with an offer of $40,000. His offer required that City Council agree to appropriate $4,000 annually to maintain the structure and to provide the books to fill the shelves.[/quote]
The trade unions here protested the proposed gift claiming their low-paid wages effectively were underwriting his benevolence.
Workers here had not forgotten one of the most serious disputes in U.S. labor history that had occurred at Carnegie Steel in nearby Homestead. The strike began on June 30, 1892 and culminated in a battle between workers and Carnegie Steel's hired private security agents, Pinkerton. It ended July 6, 1892 when nine workers were shot and killed and 40 wounded. The strike was prompted when, in a very prosperous time for the steel industry where production and profits were up, the union asked for a pay increase. Andrew Carnegie and Plant Manager Henry Clay Frick decided to try and break the union at Homestead by declining that request and announcing a 18% pay cut.
Carnegie's offer to provide the funds for a library was looked upon by the workers as a form of hero worship to the donor, manifesting the spirit for a monarch: "a recognition of the divine right of kings on the one hand and utter disregard of how the money was made on the other."
The unions here resolved that: "it would be something of a semblance of justice if these donations were made to the widows and orphans at Homestead."
[quote style="1″]Our Carnegie library was never built. In 1901, New Castle City council refused to agree to provide the $4,000 annual appropriation.[/quote]
In 1925 the Lewis S. Hoyt home was purchased for $50,000, and it became the first dedicated building of the New Castle Public Library.
Lewis S. Hoyt family home – circa 1886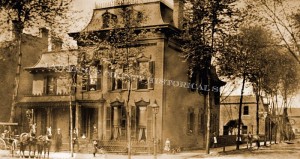 Lewis S. Hoyt was president of Thompson Run Coal Company and Rail Road. He was also a banker, the first Vice President of The Citizens' National Bank (incorporated 1891) and the father of Alexander Crawford Hoyt and May Emma Hoyt.
In this photo, you can see (from left to right): two servants in a carriage on North Street and a horse named "Jesse James" that belonged to the Hoyts' son Alex; Dr. Dick Wallace wearing a white hat and standing in front of the fence; Mr. & Mrs. Hoyt standing on the front steps with 5 year old son Alex standing between them; one of the other children is Alex's sister. There was a bridle stable at the back of the home.
[spacer size="20″]
First Dedicated Building of the New Castle Public Library – circa 1925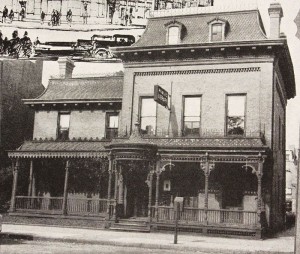 This former Lewis S. Hoyt home would have been located where the Rite Aid Parking lot is today (2013), directly across the street from Carlson Lynch Ltd.
[spacer size="20″]
(Cover Photo: facade of Carnegie Library Atlanta, Georgia)