By Betty Hoover DiRisio (LCHS Board Member & Volunteer) – originally posted on our Facebook page February 13, 2021
Established and Supported by Black Women
In 1896, the National Federation of Afro-American Women and the National League of Colored Women merged to form the National Association of Colored Women's Clubs. Its founders included Harriet Tubman, Frances E. W. Harper, Ida Bell Wells-Barnett and Mary Church Terrell. Formation of State and local organizations followed.
Pennsylvania's State group had, as one of their objectives, to form an industrial home for "colored" children. Such farms, inspired by that of Booker T. Washington, were dedicated to housing Black orphans and delinquents, and to providing them vocational instruction in farming.
The first unsuccessful and unrelated attempt in New Castle for such a farm was made by Rev. George W. Kincaid at a farm near the Harbor. Kincaid's efforts spanned several years from 1902-1910. Kincaid had approached the Pennsylvania Colored Women's Club in 1905 requesting that they assume the responsibility of providing a girl's dormitory for his industrial school.
Pennsylvania Colored Women's Club Raises Funds
It had been proposed that the Women's club would be allotted 20 acres for the site of the dormitory, dairy, hennery, etc. The projected cost of that project was $20,000, which he apparently expected the Clubs to raise.
In August 1907, the Pittsburgh women prepared to attend the Pennsylvania State Federation's meeting. Still hoping to form their own industrial home, Mrs. Sadie Delabardie* of New Castle, the State's Vice President, found five-acres of land near a school, with a five-room house and a barn, three miles outside New Castle.
The State Federation had a membership of 32 clubs representing nearly 300 women. The Federation intended to raise what money it could through its clubs before making a public appeal.
East Brook Home for Destitute Colored Children
In March 1908, it was announced that the purchase had been made and the home was opened at Lockhart & Moffatt Roads in Hickory Township. The home was listed as the Pennsylvania Federation of Colored Women's Clubs, (Country Home for Orphans) in the 1910 census.
Said to be located on the Byer's farm, it was referred to as the East Brook Home for Destitute Colored Children, and also the Lockhart Orphanage. Black Women's Clubs were urged to send money, bedding, clothing and groceries. Mrs. Nettie (Samuel L.) Coleman, 113 Green Street, New Castle, coordinated the donations. In addition to donations, the clubs held fundraising events to provide for the home including charity concerts, masquerades socials and garden parties.
In April 1912, the board of managers for the home appointed a committee composed of Bessie Batch, Washington, PA; Fannie L. Nevels, Braddock, and Mrs. Eva Williams of Pittsburgh to devise ways and means for the purchase of a milk cow for the home. Mrs. Martha Gibson, Sewickley, PA a journalist, raised $6 for a pair of pigs for the home, through her column in the Courier.
Some of the New Castle locals who were involved with the effort included Mrs. Eppie (Blanche) Dillard, 131 Elm, Mrs. Louis E. Tilghman, Shenango St. and Jennie Jackson 30 N. Beaver.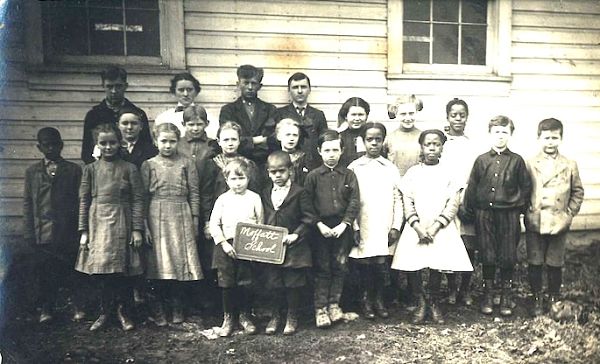 This photo was taken at the Moffatt School at the intersection of East Brook and Lakewood Roads, a short distance from the home. The Black children seen in the photo were from the home, that was being managed by Samuel L. Coleman, and Nettie, his wife. Nettie Coleman, mentioned above, acted as matron.
There were five children living there in 1910 ranging from age 2 through 9. The twin girls on the right are likely Lida and Marie Scott, who were among those listed in the census.
The East Brook Home for Destitute Colored Children was known to have lasted for at least five years. No further mention was made after 1913.
*Saddie Delabardie was married to Hipolito Delabardie, a real estate man. He ran a pool hall on Market Way.