By Betty Hoover DiRisio (LCHS Board Member & Volunteer)
On May 12, 1862, 22 year-old Robert Smalls, a slave who was to soon go down in history, was working onboard a heavily armed Confederate ship, "the Planter". The ship was being manned with fellow slaves near Charleston, SC. Smalls served as the ship's "virtual pilot" for its white officers. While the officers were onshore, Smalls commandeered the vessel. His plan was extremely hazardous and fraught with danger. He had no intention of being taken alive if things went "South", so to speak. He would use whatever guns and ammo they had aboard to fight, and if necessary sink the vessel. (There were approximately 200 rounds of ammunition, a 32-pound pivot gun, a 24-pound howitzer and four other guns.)
A Disguise and Determination
Smalls put on the Captain's hat as a disguise and picked up 17 family members at a predetermined rendezvous point on the river. He then boldly sailed past Confederate military posts – Ft. Johnson and Ft. Sumter – and headed for the open seas. Once outside Confederate waters, he and his crew hoisted a white flag and surrendered the ship to the Union in Beaufort, SC.
Sgt. Ephraim Bender, son of David and Mary Bender of Mt. Jackson, was serving with Co. K., 100th Penn. Vols. Regiment (Roundheads) at Beaufort, S.C. at the time. On May 20th, 1862 Bender wrote home to his little brother, Dallas, stating in part:
"…there was seven n—-rs stole a steam boat and run a way from Charleston. Thare was five cannon on board of the boat. One of them never had a shot fired from her yet. Two of them was taken off Fort Sumter. The n—-rs didn't no where they ware going…the n—-rs ware hands one the boat. There was only three white men that belonged to the boat and they ware up in town. They left at day light…they got thare families with them. They had to come out past the fort that was what they ware afraid of but they knew the sea. When they come opposite the fort they came out and the pilot gave three whistles…so they ware all right…the next trouble was to get out to our gun boats…out side of the bar. They run up a flag of truce but they had a head wind and our fellows didn't see their little flag of truce and they were already to fire on them but they happened to see the women jump and throw their aprons about…and they didn't fire…they made avery narrow escape…the boat came t Beaufort. I was on the boat myself when she was here. The woman folks were glad that they got through safe. They say that coffee is $1.50 per pound in Charleston…"
Perseverance
Smalls soon lobbied the War Department to be allowed to enlist black soldiers for the Union. He served and eventually attained the rank of Captain. Congress awarded him $1500 for capturing the vessel (half of its assessed value). After the war, Smalls served in the South Carolina State assembly and senate, and for five nonconsecutive terms in the US House of Representatives, before watching South Carolina roll back Reconstruction in a revised 1895 constitution that stripped blacks of their voting rights.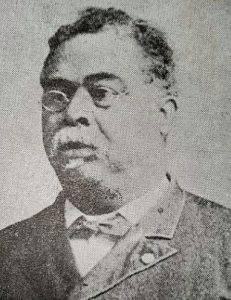 In August 1891 local veterans hosted a G.A.R. picnic at Rock Point. Captain Smalls was the guest of New Castle Veterans. He stayed in New Castle the night before the picnic.
Among the holdings of the Lawrence County Historical Society is a collection of old printers blocks, presumably made in 1891, of local Civil War veterans. Captain Smalls image was found among those blocks. The photo posted here was rendered from it by Brindle Printing Co 401 Sampson St., in New Castle.
Ephraim Bender would later be wounded in action at the 2nd Battle of Bull Run August 29, 1862. His letter, a valuable piece of history, was sold at auction in October 2013 for $5,628.70.
Bender's account was taken from the description of the letter sold by Raynor's Historical Collectible Auction.