By Betty Hoover DiRisio (LCHS volunteer)
Henry Williamson Brooks was born in Ross Township, Allegheny County on July 3, 1846 to John and Eliza (Turbin) Brooks. Henry learned the "tonsorial" (barber) trade in Pittsburgh and worked at the business there for about nine years. He married his wife Emma about 1879 and the two had at least one daughter, Mary.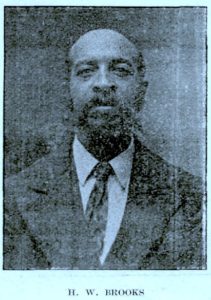 In 1883, Mr. Brooks came to New Wilmington and set up a barber shop at Wilson's corner on Water St. Before his arrival, New Wilmington had varied experiences with barbers, none of them ever remaining there any great length of time. Profiled in the 1897 History of New Wilmington by the Globe, Mr. Brooks was described as a pleasant, intelligent conversationalist and had gained a reputation of being a superior workman.
The Brooks lived in the third house built in New Wilmington. Built on the south-west corner of the Diamond by Dr. Hindman in 1824, it was the oldest standing house there in 1887.
Mr. Brooks ran for public office as inspector of the Boro in 1904 and was defeated by G. H. Ketty. He received 17 votes to Ketty's 56. In 1908 he moved his office across the street from the Price building on Water Street to the Martin Building.
In June 1914, Mr. Brooks suffered a stroke and lost his sight. He never fully recovered and died on November 19, 1914 in New Wilmington.