By Betty Hoover DiRisio (LCHS Board Member & Volunteer)
The first pastor of Mahoning Presbyterian Church in Pulaski, Lawrence County, was Rev. James Duncan who began serving there in 1800, and in 1808-1815 he served Deer Creek. He was the second Associate Presbyterian minister licensed to preach in the United States in September, 1796. In 1804/1805 Rev. Duncan organized the congregations of Poland (later the Struthers United Presbyterian) and Liberty (township) Associate Presbyterian. These congregations were located in the then newly formed state of Ohio.
In 1815 he ministered at Paducah, Kentucky until 1824 when he moved to Vevay, Indiana.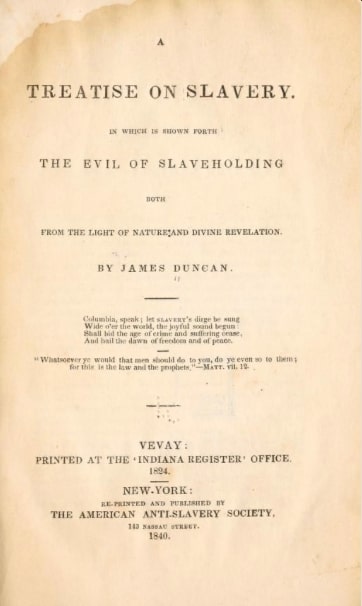 In 1825 Duncan published a book against slavery "A Treatise on Slavery, in which is shown forth the Evil of Slaveholding, both from the Light of Nature and Divine Revelation" in which he professed immediate, as opposed to gradual, emancipation of slaves. While in Vevay, he and Judge Stephen C. Stevens founded the Liberty Party in Indiana 1824-1830. (The Liberty Party was created by Abolitionists who believed in political action to further antislavery goals.)
They were Abolitionists at a time when it required great courage to be one. There was extreme prejudice, and bitterness that then existed against Abolitionists. They were considered outside of any healthy political organization and were socially tabooed and ostracized. Duncan's book against slavery was published eight years before the first Anti-Slavery society was formed. Truly a pioneer! It was later republished by the American Anti-Slavery Society in 1840.
Duncan advocated political action against slavery and proposed that Christians should have no Church fellowship with slaveholders. One of three of the earliest authors on anti-slavery and abolition, Duncan had observed that it was a strange circumstance that the 10th commandment [thou shalt not covet] should ever have been pressed into the service of human slavery, because that practice is a direct violation or breach of this as well as the eighth commandment [thou shalt not steal], it being impossible for one person to enslave another without first coveting.
Duncan was one of the first to appeal for immediate emancipation in the United States, prior to William Lloyd Garrison, a prominent abolitionist of the time. Duncan's work showed the fallacy of gradualism. Garrison said Duncan posed great powers of reasoning and rare clearness of vision on the subject of slavery. Duncan,
"with a soul burning with the wrongs and wretchedness endured by the slaves. His was an original mind, of giant moulid. He preached from log cabin to log cabin the early western settlements; always poor, yet learned, and studious and laborious. He saw principles with amazing clearness and uttered them with corresponding strength. He preached in Kentucky, Ohio, Indiana and Illinois. He died on one of these mission-tours, preaching as he went, at a house where he put up for the night in the boarders of Indiana."
Duncan's son, Alexander, was one of the first teachers in Lawrence County. Alexander eventually became a politician elected to the State Legislature, and subsequently served two terms in the U. S. Congress.