By Betty Hoover DiRisio, LCHS Volunteer
Prior to 1887, mail was held at our local post office for patrons to claim. If letters or
parcels were left unclaimed, a notice would be advertised in the newspapers with the
addressee's name. Once published, "Advertised mail" incurred a claim fee.
Free Mail Delivery Begins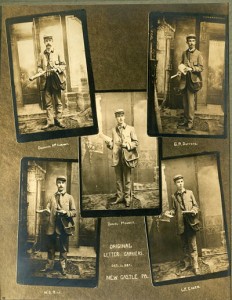 In 1863, free mail delivery was authorized in cities where income from local postage was more than sufficient to pay all expenses of the service. By 1887 the city of New Castle fell within that category and free delivery was instituted on October 1st. Carriers were expected to makes deliveries as frequently as the public convenience required, Monday through Saturday. New Castle had as many as four deliveries per day.
Our original five postal carriers pictured here were: Luke Eagen, G. R. Dufford, Wesley S. Rice, Douglass McIlvenny and Daniel Mooney.