The following is an excerpt from: Bridges to the Past, A Pictorial History of Lawrence County by Donald W. Fox (1994)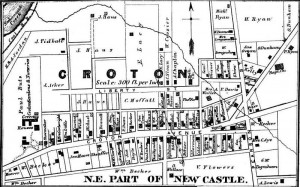 The firm's history began in 1850 when Paul Butz, a Swiss immigrant with experience in Europe's horticultural and botanical gardens, purchased six acres of uncultivated land in New Castle and erected a small greenhouse for the cultivation of plants and flowers. Additional greenhouses were built in 1858.
On June 5, 1859, a severe frost killed nearly everything not in the greenhouses and on June 5, 1860, a storm unleashed large hailstones that broke all of the glass in the greenhouses and damaged most of the plants. Despite these setbacks the business continued to expand. Mr. Butz was also much in demand for landscaping private estates.
As orders were received, more land was purchased and cultivated, and additions to the greenhouses began to grow each year. Mr. Butz began shipping to neighboring towns, such as Sharon, Youngstown, Pittsburgh and Cleveland. By 1874, Paul Butz and Son, as the firm was then known, had more than 60,000 plants in its greenhouses and was packing orders for as far south as New Orleans, as far west as California, and north into Canada.
In 1895, upon the death of the founder, sons William and Frank took over and opened a retail store in New Castle. That same year William's son, Paul F., a boy of 13 began working in the store. When Paul F. Butz died in 1968, his son John R. Butz, the fourth generation, assumed leadership of the company. It is one of the few florist businesses in the United States that has four direct generations of ownership.
The greenhouses were discontinued, and for many years the company has concentrated on retail sales. The present flower and gift shop is located at 120 E. Washington Street, New Castle, Pennsylvania.
Reference: Fox, Donald W. (1994) Bridges to the Past, A Pictorial History of Lawrence County, Lawrence County Historical Society: New Castle, PA
[button url="http://www.lawrencechs.com/store/books-for-sale/" target="blank" background="#1baf3f" icon="icon: book" desc="online or onsite"]Available for Purchase[/button]