By Betty Hoover DiRisio (LCHS volunteer)
George Milton Book was born in New Castle May 25, 1845 to Col. William and Ann (Emery) Book. He spent his childhood in town, attending New Castle schools.
Book was appointed as Acting Midshipman at the Naval Academy on November 22, 1861 at the age of 16 and was graduated from Annapolis in 1865.
Book's service history includes:
West India Squadron from 1865-67, promoted to Ensign, December 1, 1866
Apprenticeship "USS Portsmouth," (a wooden sloop of war ship) 1867-9. Promoted to Master, March 12, 1868. Commissioned as Lieutenant March 29, 1869.
Sick leave 1870-71
Retired, 1871
Restored to active list, 1875
Navy Yard Norfolk 1876
"USS Adams" (third rate) (a wooden screw steamer) South Atlantic Station, 1876-8
Commanding "USS Montauk" (a single turreted Passaic-class monitor), North Atlantic (N. A.) Station 1879-81. Promoted to Lieutenant Commander May 1881.
"USS Enterprise" (a barque-rigged screw sloop), N. A. Station 1882-4
Asiatic Station, 1884-6
R. S. "Vermont" (a receiving and store ship) 1885-8
Navy Yard New York, December 1889 to August 1891
Awaiting orders August 1891-May 1892. Promoted to Commander December 16, 1891. Navy Yard, NY May 1892 to April 1893. Commanding "USS Alert" April 1893-October 1893.
Graduate of the Naval War College, class of 1894
Commander and Senior Officer of the Naval Forces in Hawaii during annexation efforts on the USS Marion engaged in protecting American interests in Honolulu, 1897
Reported to San Francisco to take command of the recommissioned "USS Mohican" which had been declared unfit for service. Twice sailed to Honolulu, HI from San Francisco delivering much needed ammunition for shipment to Admiral Dewey in the Asiatic Station during the Spanish American War. Book's obituary indicates that during these cruises, he and his volunteer crew, were in constant danger of sinking as all the steam from the boilers was required to operate the pumps with all available men on hand pumps which had to be kept in constant use. This heroic action on the part of Admiral Book made it possible for Dewey to destroy the Spanish fleet and made him famous. From that time until Dewey's death, the warmest friendship was said to exist between the two men.
Promoted to Rear Admiral March 8, 1900 upon retirement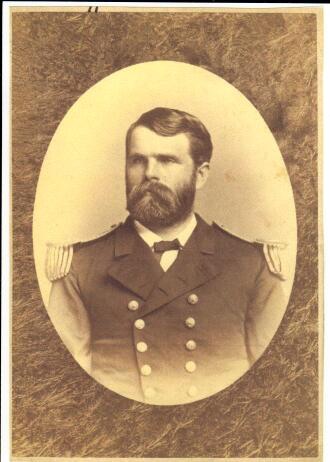 Spending his retirement years between his homes in New Castle and in San Antonio, Texas, Book died in New Castle, January 22, 1921. His wife Mary Sippy Book preceded him in death on 1915 in New Castle. They had one son, Dwight Book of Texas. The couple is buried in Greenwood Cemetery.
1915 – Reunion of the US Naval Academy Class of 1865 (Naval History Heritage Command Photo NH 69914). Eleven members of the Naval Academy class of 1865, celebrating the fiftieth anniversary of their graduation, pose for a photograph on the grounds of their alma mater, 27 October 1915.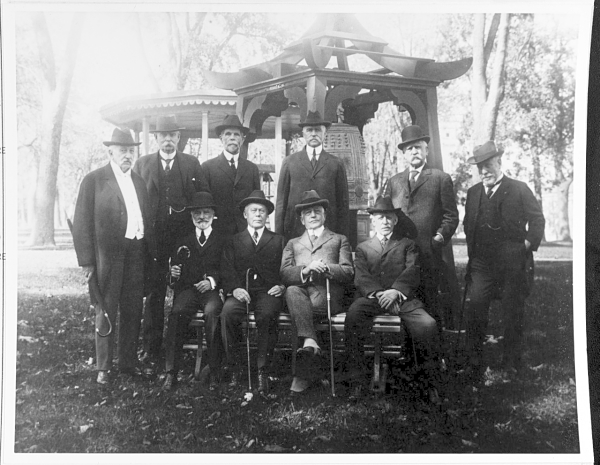 Seated from left to right: Rear Admiral William W. Mead, USN (Ret); Rear Admiral Thomas Perry, USN (Ret); Rear Admiral Willard H. Brownson, USN (Ret); and Rear Admiral Albert S. Snow, USN (Ret). Standing from left to right: Rear Admiral Joseph E. Craig, USN (Ret); Rear Admiral George E. Ide, USN (Ret); Rear Admiral George M. Book, USN (Ret); Captain Francis M. Barber, USN (Ret); Rear Admiral George C. Reiter, USN (Ret); and Rear Admiral Charles H. Stockton, USN (Ret).