By Betty DiRisio, LCHS Volunteer
If we went back in time 100 years or more, no 4th of July Parade would have been complete without local Patriot Joe Trax and his Custer Cannon. A West Side resident of New Castle, Joe Trax had been a member of Company B, Second West Virginia Calvary during the Civil War and collected metal war artifacts and relics from various parts of the country.
Joe had a cannon cast using his collected relics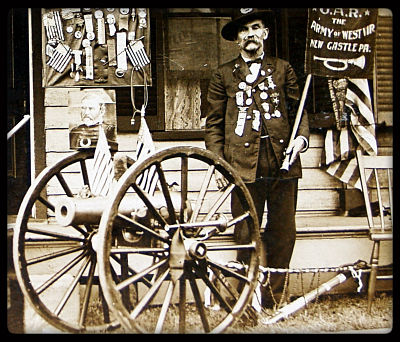 In June 1894, Joe had a cannon cast at the Fort Pitt Works in Pittsburgh using his collected relics (see photo).
The collected items that were melted down and cast for the gun included:
4 pounds brass buttons
3 Division bugles
4 Regimental bugles
2 brass drum rims
44 US Infantry buckles
36 US Calvary buckles
2 brass door keys of the Ford Theatre (Washington DC)
5 spears from Infantry flags
3 Eagles of Calvary and Artillery flags
2 Eagles from Division flags
9 pairs of Confederate spurs
24 pairs Union Spurs
24 copper cents captured at Lexington
104 Spencer carbine copper cartridges
13 brass caps (from shells)
4 pounds buckles from Artillery harnesses
5 sleeve buttons
5 white metal watch cases (of Army service)
16 Army spoons
3 Gold (Army) Dollars (relics)
1 cow bell
1 B&O brass lock (Harper's Ferry)
20 pound piece of a bell picked up at Charleston, Virginia
(makes a Civil War relics collector cringe!)
The gun itself weighed 150 pounds and the entire cannon weighed 252 pounds. Trax claimed to be an orderly under Custer during the Civil War and named the cannon for him, that is "Custer Gun". Joe traveled the country with his creation. The cannon had been exhibited at dozens of national and state encampments, reunions and many other affairs. It was a common sight in most of New Castle's parades and he would fire it often, marching up and down the streets.
Joe Trax died in 1927 and his heirs later disposed of the cannon. In 1959 the cannon was located in St. Petersburg, Florida being displayed in a souvenir shop. There is also some indication that the State of Florida Parks and Museums may have come in possession of it.