By Betty Hoover DiRisio, LCHS Volunteer
Fifteen Years to Priesthood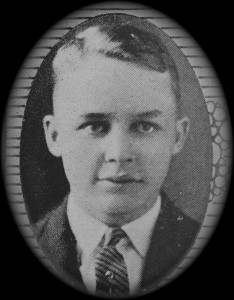 Thomas J. Rocks, seen here in his 1924 high school graduation photo, was born in New Castle, Pennsylvania, to Hugh M. and Elizabeth Newman Rocks. The family lived on Wildwood Avenue. "Tommy" attended St. Mary's School (1911-1920) and New Castle High School (1920-1924). He went to Holy Cross College (1925-1926) and entered the novitiate of the society of Jesus at Poughkeepsie, New York on August 14, 1926. Completing his novitiate in 1928, he took his classical studies there (1928-1930) and his philosophical courses at Woodstock College (1930-1933). For the next three years he taught at the San Jose Apostolic Seminary, the Ataneo de Manila and Sacred Heart Novitiate Manila, Philippine Islands returning to Woodstock in 1936 for his theological studies. With nearly fifteen years of preparatory education he was qualified to enter the priesthood. His ordination took place on June 21, 1939 at Woodstock, Maryland. Father Rocks said his first mass here (New Castle) at his hometown parish of St. Mary's on Sunday, June 25, 1939 with Father William F. Galvin and Father Leo S. Watterson, as decon and subdeacon.
Spiritual Fathers Helps Hide Our Soldiers
After his ordination he returned to the Philippines and taught at the Ateneo de Cagayan, Cagayan, Oriental Misamis, Mindanao. Mindanao was one of the first islands in the Philippines to be attacked and invaded by the Japanese in December 1941. Local patriots, and American soldiers who refused to surrender, formed a guerrilla organization that would later be referred to by General McArthur as the greatest resistance movement of the war. The Resistance fought on even after the surrender of Bataan knowing they could expect no immediate aid from the US Military. Father Rocks and fellow Jesuits became their spiritual fathers, adopting their cause and assisting in secreting
the soldiers into the hills that the Jesuits had come to know so well.
Takes a Fatal Stand
While ministering to American soldiers in the jungles of Claveria, Father Rocks became ill with dysentery and was too weak to travel. A number of threatening men were seen approaching the soldiers' hut. The Americans, having only one or two guns, decided to flee. But Father Rocks refused to join them, choosing to stay and guard their things. Rocks believed the attackers were Filipinos who would not harm a priest. He was dead wrong. The group of men were Magahats, pagans who lived in the mountains. Firing up through the bamboo floor of the hut, Rocks was killed instantly. The pagans then hacked up the priest's body, sacked the house and left. Father Rocks was killed on June 4, 1942. The returning American soldiers buried him in his vestments in the mountains.
Father Rocks' parents had pre-deceased him, but he was survived by two brothers, Hugh of Waynesboro, and Edward J. of New Castle, and a sister, Ellen of Mercer,
Pennsylvania.