By Betty Hoover DiRisio (LCHS Volunteer)
The first few years of the 1900s showed the then highest rate of immigration into the United States with some 900,000 immigrants yearly. Many came to Lawrence County. We needed these immigrants as laborers in our industries, but while welcomed as workers in our factories, they were not always welcomed with open arms into the community.
With this influx of immigration, there was a sense among the English speaking citizens that American society as they knew it was undergoing a profound transformation. This uneasiness caused ethnic antagonism that was pervasive. Most foreigners in the county were disparagingly referred to as "Dagos" regardless of their European culture. Foreigners would band together into their own communities and neighborhoods seeking comfort in that which was familiar to them. They could still enjoy their religious pageants, folk dances and native customs among their own people who understood and appreciated them. Native born Americans complained that to encourage such things was to encourage segregation or colonization of the foreigner here and that it would ruin the country.
Americanization Movement
With the advent of World War I, the Americanization movement, a nationwide organized effort to bring millions of immigrants into the American cultural system, became more critically aimed at creating conformity and winning the loyalty of the foreign-born. Nearly a third of resident aliens had been born in Germany or one of its allies. Over 30 states passed laws requiring Americanization programs; in hundreds of cities the chamber of commerce organized classes in English language and American civics; many factories instituted their own programs; School Boards operated after-school and Saturday classes; some labor unions helped their members take out citizenship papers. The YMCA and YWCA were especially active. Some ethnic organizations such as New Castle's Sons of Italy, required citizenship before membership.
The local Americanization committee consisted of prominent citizens and members of  different organizations and churches. It began its work to educate immigrants on how to better assimilate into our society. Many believed that the native born had to reach the foreign born through the medium of a common bond of feeling and sympathy and that this bond could only be established if the two met on an equal footing socially. Helping the immigrant was a must.
Neighborhood House
As part of our Americanization effort "The Neighborhood House" was established. It began in a small house on Scotia St. The work of the Neighborhood House was aimed at assisting all nationalities to Americanize. At its opening in 1919, foreign born women of 11 different nationalities gathered. "Slovaks, Italians, Romanians, Syrians, Poles, Arabians, Jews, Germans, Scotch, Irish and Welsh" all residents of the vicinity were in attendance.
The names synonymous with "Neighborhood House" were two sisters, Misses Christine and Jean Butler. In the beginning they held citizenship classes and kindergarten classes. It was soon expanded to include classes in English and sewing. Home welfare nurses gave instructions for new mothers, home nursing, and personal and dental hygiene classes. The work was carried out primarily through the generosity of the community.
Among the early women's organizations that supported the Neighborhood House was the Federation of Women's Clubs, Reading Circle of 1891 and the Women's College Club. These clubs included the wives of some of the most prominent businessmen in the city. Young girls groups would gather dolls to give to the immigrant children; women's groups gathered and donated material to be used for the sewing classes for the immigrant women and donated books to be used in teaching English. Bake sales were often held to raise funds.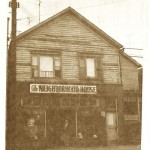 After Neighborhood House's start on Scotia Strett (New Castle). another house on the same street was occupied and then subsequent moves took them to the Bethlehem Baptist and Central Christian churches. It later became the Butler Neighborhood House Church on 329 East Long Avenue (New Castle) and it continued its work at least into the mid-1970's.