By Betty Hoover DiRisio
LCHS Volunteer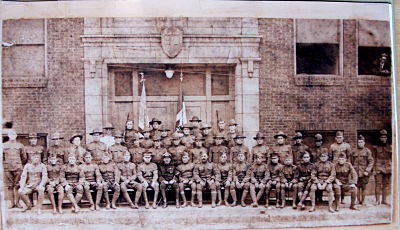 In 1899, the New Castle Italian Athletic Association/Club was originally formed as a baseball organization. But in 1917, when President Wilson made the plea for volunteers to enter World War I,
the organization stepped up to quickly answer the call. Twelve days later 27 of its members were the first to leave New Castle on a train to Columbus, Ohio, to be mustered into service.
The entire city paid honor to these men on April 19, 1917 at a "Patriots Day Parade" with some 15,000 to 20,000 in attendance. The parade started at S. Jefferson St. onto Division St., up Mill St. to Croton Ave. onto E. Washington then west toward the depot. Before the start and during the march a continuous stream of fireworks announced its coming. As the time to board the train approached, the boys marched across W. Washington St. bridge. The recruits were escorted by the entire Italian Athletic Association, carrying a huge American Flag. Italian band players held torches and lined up on each side of the bridge, casting an eerie light across the faces of the boys as they passed by to the sounds of the "The Star Spangled Banner". A placard carried by the organization read "Here they Are – New Castle Italian Athletic Association – Recruits for the U. S. Army". Tearful good-byes were had as family and friends cried "Addio! Addio! Fratelli"! (Good-bye and God Bless you!)
Many others from the organization followed the call and by the end of the war, sixty-four members had served, two-thirds voluntarily (most are in this picture). They were: J. Bullano, Charles Mercello, Ralph Paglia, John Marcella, Joseph Zazzarino, Charles Sacglione, Emilio Strizzi, Louis Cassela, James Galluci, Domnic De Capro, Pasquale Micco, C. De Marco, Marco Felasco, Alex Natale, Frank Pascarello, Joseph Paumbo, F. Frangelo, Dominic Perrino, Emillio Marconi, John Dando, Joseph Spinelli, A. Richards, Joseph Cassela, Nick Capto, Joseph De Lillio, Nick Tona, E. Casacchia, Ralph Di Gregorio, Frank Fazzone, Ralph Galluci, J. Capitola, Leopold DiFiore, Vitus Conti, Thomas Ross, Jacob Gancola, Tony Sacco, George Candiotta, J. P. Biondi, Joseph Puno, Thomas Felasco, Charles Augostine, Angelo Venditto, N. J. Conti, Felix Conti, Antonio Cialellio, J. Dermi, Patsy Bendetta, J. Caddo, Salvatore Mencone, Harry Biondi, Harry Malley, Daniel Pagley, Thomas Spincelli, Louis Scungio, Frank Martello, J. Di Robbio, Tony Marello, Thomas Pagley, Pasquale Audino, Alex Pascarella, Thomas Long, Carl Monico, Frank Mastrangelo, and Vitus Cialello.