Chuck Tanner
Chuck Tanner's major league debut could not have been more impressive. The Shenango High School graduate, in his first at bat as a 25-year-old rookie outfielder pinch hitting for the Milwaukee Braves, lofted the first pitch into the right field seats at County Stadium in Milwaukee for a home run. Tanner eclipsed his debut, not as a player but as a manager. He won the American League Manager of the Year award in 1972 by leading the Chicago White Sox to a second place finish. In 1979, he managed the Pittsburgh Pirates to a seven game World Series championship. Before reaching the major leagues in 1955, Tanner spent nine years in the minors. He played with Milwaukee and Chicago in the National League and with Cleveland and Los Angeles in the American League. His major league managerial stops were in Chicago (1970-75), Oakland (1976), Pittsburgh (1977-85), and Atlanta (1986-87).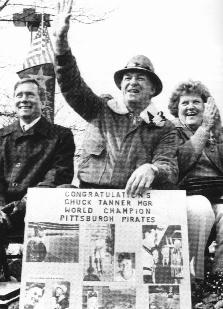 Photo shows Chuck Tanner, with Mayor Francis Rogan and Mrs. Tanner at his side, waves to well-wishers at a parade in his honor after the 1979 World Series victory. Police estimated the crowd at well over 50,000.
1928 – 2011: Click HERE for New Castle News coverage of Chuck Tanner's life
THE ALLEN BROTHERS
The Allen brothers excelled at basketball at Wampum High School during the years when their teams were winning local and state championships. They went on to play major league baseball, the only brothers from Lawrence County to do so.
Richie Allen
Richie "Dick" Allen finished his basketball career (1955-59) as Lawrence County's third all-time high scorer, with 1,931 points.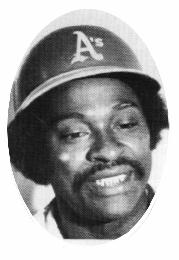 As a minor league baseball player with Little Rock, Ark. in 1960, he was the first African-American to play in the Philadelphia Phillies organization. Allen hit the first regular season home run in the history of the Astrodome on April 12, 1965.
With the Chicago White Sox in 1972 under Manager Chuck Tanner, he was named the American League's Most Valuable Player, after leading the league with a .308 batting average, hitting 37 home runs and 28 doubles and batting in 133 runs.
Lawrence County Historical Society Sports Hall of Fame Inductee – 1984
Web Bio by Society for American Baseball Research
Harold Allen
Harold Allen scored 1,259 points for Wampum's basketball team from 1956 to 1958. He played professional baseball for the Washington Senators and Chicago White Sox.
Lawrence County Historical Society Sports Hall of Fame Inductee – 1985
Ron Allen
Ron Allen played basketball for Wampum, scoring 1,195 points during the 1959-61 seasons. He played in the Phillies and Cardinals minor league systems before moving up to the St. Louis Cardinals team in 1972.
Lawrence County Historical Society Sports Hall of Fame Inductee – 1987
Lewis "Hack" Wilson
Two of the most enduring records in baseball belong to Ellwood City native Lewis Robert Wilson, nicknamed "Hack" after Hackenschmidt, a famous professional wrestler of the early 1900s. Wilson stood only five feet, six inches tall on tiny feet size 5-1/2 shoes) but weighed about 200 pounds. He had massive shoulders and upper body strength from chopping wood. And he could wallop a baseball!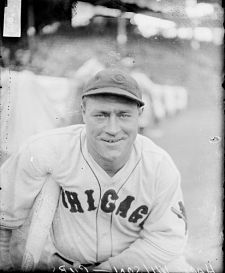 (Photo Credit: Chicago Daily News negatives collection, SDN-069882. Courtesy of Chicago History Museum)
In 1930, Wilson hit 56 home runs, a National League record, and drove in 190 runs, a Major League record. In the 63 years since, neither record has been equaled. He began playing with the Chicago Cubs in 1925. Wilson was believed to have been paid more than any other player except Babe Ruth in 1930, but he died penniless in Baltimore in 1948.
Hack Wilson was inducted into The National Baseball Hall of Fame in 1979.
Lawrence County Historical Society Sports Hall of Fame Inductee – 1984
Read more about Wilson from the Society for American Baseball Research
2022 December 17 Update: 'Hack' Wilson to have historical marker in Ellwood City
https://www.ncnewsonline.com/sports/local_sports/hack-wilson-to-have-historical-marker-in-ellwood-city/article_af888b64-7d61-11ed-a744-6b9ca0a982c0.html