By Betty Hoover DiRisio (LCHS Board Member & Volunteer)
March 8 is International Women's Day. It is a focal point in the movement for Women's rights. The first National Women's Day in the US was on 28 Feb 1909 designated to honor women striking in protest against working conditions in the garment industry in New York.
RUSSIAN WOMEN MARCH
On March 8, 1917, during WWI, Russian women marched requesting food for the children. Four days later the Czar abdicated and the provisional government gave women the right to vote.
US WOMEN MARCH
In January of 1917 here in the US, women began gathering daily outside the White House, regardless of weather, protesting President Wilson's opposition to the suffrage amendment. They wore purple, white and gold sashes and held signs with slogans like "Mr. President, How Long Must We Wait for Liberty?" Many women in Pennsylvania considered these women "militants" and did not approve of such methods as picketing. The matter was going to be taken up at the 49th Annual Convention of the Pennsylvania Women Suffrage Association. (These women had been fighting fo 49 years!) As picketing went on in DC, women began obstructing traffic, and forming picket lines obstructing the gates of the White House. Arrests were made. One of the leaders was given a seven month sentence at Occoquan, VA. Some women were put in the jail's psychiatric ward.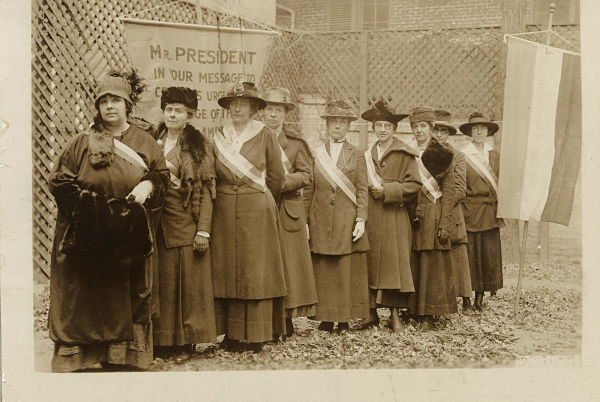 In November of 1917, 33 women who were protesting were arrested and brought to Occoquan Workhouse. They were tortured and denied counsel. News of their mistreatment reached the suffragists outside. Under increasing pressure, federal authorities released the prisoners in late November.
SUFFRAGETTES WIN RATIFICATION
In 1918 the DC Appeals Court ruled that they had been illegally arrested, convicted and imprisoned. President Wilson began calling on Congress to enact the Federal suffrage amendment. The women suffragettes continued to work to win ratification in the necessary 36 states, which became a reality on August 18, 1920.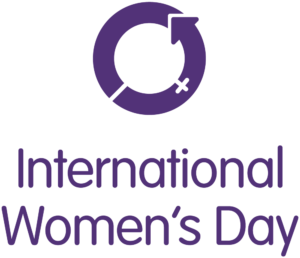 MARCH 8 BECOMES OFFICIAL DATE
In 1975 during the International Women's Year, the United Nations began celebrating International Women's Day on March 8th.
PHOTO CREDITS
Photograph of nine suffrage pickets, November 10, 1917, Records of the National Woman's Party, Manuscript Division, Library of Congress, Washington, D.C.
International Women's Day logo used with permission of https://internationalwomensday.com/