By Betty Hoover DiRisio (LCHS Board Member & Volunteer)
Margaret A. Toepfer was born June 16, 1900 to Edward and Evaline (Hutchman) in Pittsburgh, Pennsylvania. She moved to New Castle, Pennsylvania, with her parents as a small child and lived at various times on Second Street and Madison Ave. in Mahoningtown. She attended the Mahoningtown and New Castle High schools.
HIGHER EDUCATION
She attended Drexel Institute of Philadelphia for a time and moved to Cleveland where she served for three years as the Executive Field Director of the Girl Scouts in Cleveland, Ohio. Transferring her credits to Westminster College, she majored in economics and graduated in 1929. Margaret worked for the Pennsylvania Railroad and taught in the New Castle Public school system for two years; one at George Washington Jr. High and one in the Senior High.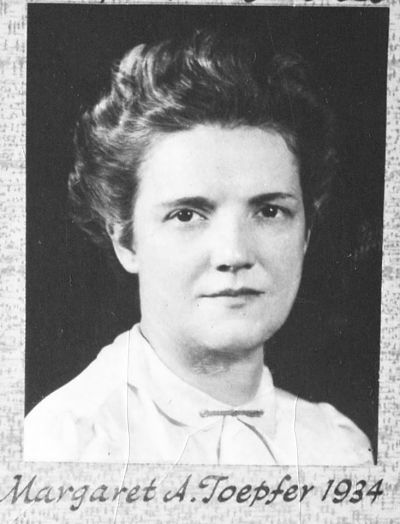 FIRST WOMAN LAWYER IN LAWRENCE COUNTY
She went on to obtain her law degree from Univeristy of Pittsburgh. Passing her state bar exam in October 1934, she was admitted to practice law before the Pennsylvania Supreme Court in March 1935. Ms. Toepfer was the FIRST woman lawyer in Lawrence County and the FIRST woman to be admitted to the Lawrence County Bar Association.
In December 1934, she took a position in the legal department of the City of New Castle where it was reported "she will handle minor legal matters." She had her own practice by 1937 and is known to have handled divorce and estate law.
One of the founding officers of the Lawrence County Historical Society, she served as corresponding secretary when it was created in December 1938.
In the late 30s, she was employed by the Works Progress Administration as a supervisory official. In 1949 she was elected secretary of the New Castle Military Manpower Committee. Moving her practice to Pittsburgh in 1952 she would later be hired by the Allegheny County Court system to represent deserted women and their families. She was a member of the Business and Professional Women's Club in New Castle.
A Presbyterian, she attended Highland United Presbyterian Church. After retiring from practice, she returned to the county and died at the age of 86 at the Overlook Medical Clinic in New Wilmington, Pennsylvania.
Photo: Lawrence County Bar Association 1941
[article originally posted on Facebook March 3, 2017]