Maxine Anderson Wilson learned to fly after marrying her husband, pilot Findley Wilson in 1937. In 1939 she was the first District woman to hold a private license, and the only woman pilot in Lawrence County and many surrounding counties, to hold a commercial permit, allowing her to haul passengers.
By 1942 she became one of the few women flight instructors in the United States and the only one in this district. She held both a commercial license and an instructor's rating and was qualified to teach the Army and Navy men enrolled in the Civilian Pilot Training course in New Castle, which she did. At the time only 250 women in the US held commercial licenses and but a small percentage of those held an instructor's rating. During 1943-1944, she and her husband taught over 3000 Army & Navy Pilots.
Maxine's husband, Findley Wilson, was a pioneer in flying. He first flew at the age of 12 and completed his first solo at 16. He became a school teacher and taught in a Slippery Rock Township school near Princeton and at Washington Grade School in Union. In 1934 while attending continuing education classes at Slippery Rock University, he flew his plane to classes, landing on the University's playing field. He owned a hangar at the New Castle Airport and was the field manager there.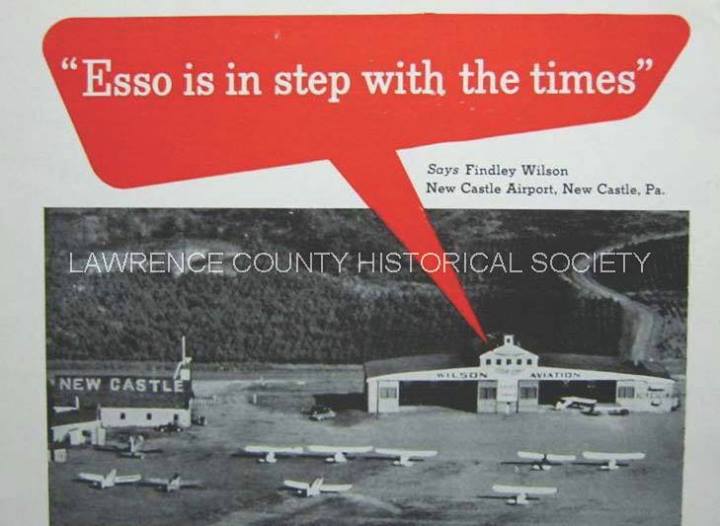 The Wilson's also owned the Grove City and Sharon Airports. They had flight instructor schools at the Grove City and New Castle Airports.
This photo is from a 1947 ESSO Oil ad in an aviation magazine.