Elizabeth May Mangan, daughter of Daniel and Elizabeth Mangan of Allegheny was born in August 1876. She worked as a confidential secretary for her uncle who was a senior member of the firm Kelly & Jones, wholesale steamfitters in Pittsburgh.
John A. McGonigle, born June 1871, was reared and educated in Braddock. John came to New Castle in 1898 after completing a course in the "Pittsburg Embalming School." He first opened his Funeral Director and Embalming Services at 8-10 North Mill (East corner of Washington Street), before moving to North Jefferson Street (between Falls & North).
In August 1905, Elizabeth and John married. About that time, John suffered an attack of typhoid fever. In November 1906, they moved the business a few doors down North Jefferson to the corner of West North Street. However, on February 18, 1907, the founder of the McGonigle Funeral Home died of heart problems. He was only 36 years of age.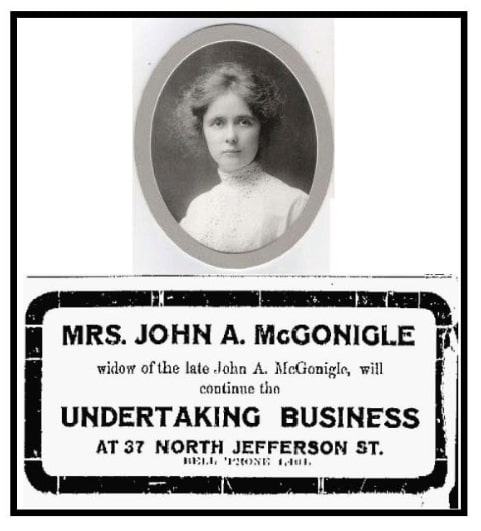 In an effort to carry on their Livery Stable and Funeral Home business (the largest in New Castle), his pregnant-widow "Bessie" secured an embalming diploma that was granted on June 1, 1907. It is believed to be the first such license granted to a woman in the State of Pennsylvania. By 1933, the business had relocated to 133 North Beaver. For 30 years Bessie served as the funeral director. She died April 12, 1936. She was a member of St. Mary's Church.