By Betty Hoover DiRisio (LCHS Board Member & Volunteer)
In September 1941, Margaret M. Orres, (R), began her campaign for Alderman in New Castle's Sixth Ward.
Winning her election, she received her commission in December 1941 becoming Lawrence County's first female alderman. A former stenographer in the criminal law firm of Attorney Edwin K. Logan, she was elected 10 years before Pittsburgh elected its first woman alderman.
There are a number of women thought to have been Pennsylvania's first female alderman, but it appears that the first elected was Laura M. Clark in Fayette county in Feb 1927. At about the same time Fay Doherty of Clinton County city was appointed to fill her father's vacancy.
That said, Margaret was the only female alderman in the state of Pennsylvania in 1947.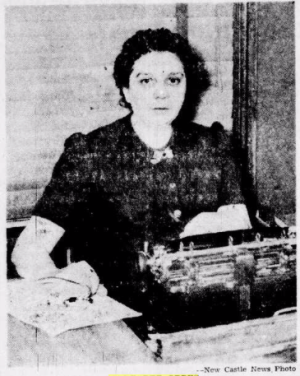 She held her position until 1953 when she lost to another woman, Mrs. Dorothy H. Howley, (D) in a close race. Running again in 1959, she defeated yet another woman, Hazel L. Dilley. She was then defeated in 1965 by Louise Brown, (D).
In 1969, she ran for city wide office of justice of the peace but didn't get her party's nod in the primary.
Orres was born in Johnstown, PA in 1905, coming here with her mother and father who transferred with the National Radiator company in 1919. Margaret attended New Castle Business College, was employed as a stenographer for 15 years, served as secretary of the Lawrence County Minor Judiciary, and also served as a legislative committee member for the Pennsylvania Magistrates Association. She died February 18, 1982