By Betty Hoover DiRisio, LCHS Volunteer
Billy Glenn was born in Portersville in 1874. Prior to coming to New Castle he operated a concession at Rock Springs Park in Chester, W VA.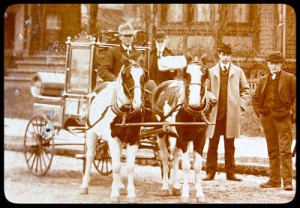 Billy started out selling peanuts and crack corn here in a tiny wagon that stood at E. Washington and Apple Alley. It was drawn by little horses that many times wore plumes on their heads. This photo was taken in 1901 on Croton Ave. (left to right: Ed Riney, driver, William G. Warnock in background, Frank Sloan and Billy Glenn far right.)
Glenn first opened his Cascade Park concession in 1903 and his name has been linked to Cascade Park ever since. He constructed the amusements the "Old Mill", the "Gorge" and the "Fun House." In 1924, he built a four bedroom cottage directly in the rocks under the Gorge where he and his family lived during the summer months. From 1925-1926, Glenn was also instrumental in the building of the park's swimming pool.
Billy died at the age of 92 on December 30, 1966.