By Betty Hoover DiRisio (LCHS volunteer)
Pamphilia Hardman Phillips was a Lawrence County Suffrage Pioneer. She was born on October 31, 1844 in Petersburg, Ohio to Mr. and Mrs. David Hardman. Her first visit to New Castle was made on one of the old canal boats running between Lowellville and New Castle. She came to visit her sister, Clarinda, who was the first wife of Thomas W. Phillips, Sr. (Mr. Phillips would become a wealthy petroleum man and two-time US Congressman.) Sometime after the death of her sister, Pamphilla married Mr. Phillips. He died in 1912. She was a charter member of the First Christian Church to which she devoted large sums of money to its advancement and work in missions and children, as well as a member of the Official Board of the church.
Lawrence County Women's Suffrage Party
In 1914 she was elected Chairman of the Lawrence County Women's Suffrage party. (Mrs. James Smith was elected treasurer and Miss Eva Davidson secretary. Frances Foulke served as chairman of the literature committee.) While the newspapers were " supportive" it is interesting to note that most of the articles regarding the Party dealings were listed on the Society page. The party met every two weeks or so leading up to the 1915 election. Local women put on the play "How the Vote Was Won" which had been produced in nearly all the larger cities of the world in 1914-1915. They obtained the use of the opera house for an entire day to show the photo play "Your Girl and Mine."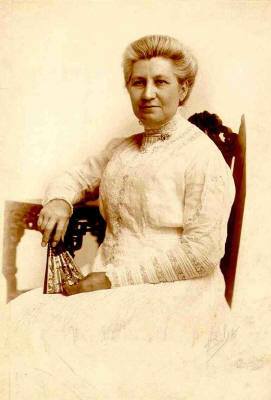 Lawrence County Votes to Adopt Suffrage Resolution Despite Defeat at the State Level
The state senate adopted the suffrage resolution for an amendment to the state constitution in March 1915. The issue which went to the polls in November for the voters to decide. Local suffrage meetings and rallies continued to be held at various churches and venues throughout the county. Unfortunately, when the men went to polls on November 2, 1915 the resolution was not successful. It did however win a majority of votes in Lawrence County. The loss did not deter the women, who continued their efforts putting pressure on State representatives and demanding they be given the right to vote. Pamphilia's daughter, Grace Phillips Johnson, a businesswoman in her own right, was also a member of the Suffrage Party.
Editor's note: Grace Phillips Johnson's name was incorrectly reported as Grace Phillips Johnston on our Facebook post.