The Lawrence County Historical Society, 408 North Jefferson Street, New Castle, is sponsoring a book signing on Saturday, February 7th from 1pm to 4pm.
Meet New Castle Indians player Ted Toles, Jr. and the author of his life story, Michael T. Swank.
The Negro Leagues were made up of thousands of men who enjoyed playing our national pastime just as much as their white counterparts; they were just not allowed to do it on the same stage. This book is an exciting firsthand account of the career of one of those men, Ted Toles Jr.
Toles' story begins in New Castle where he played for the New Castle Indians in 1951. From there he traveled to the Sandlots of Ohio and on to Canada, where he played with some of the biggest names in the history of Sports. This book follows his career which includes multiple Hall of Fame Inductions, reunions with teammates and the long overdue recognition he deserves.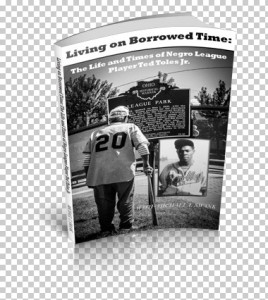 Author Michael Swank, is from Painesville, Ohio where he lives with his wife and their three children. His passion for sports began at an early age, and evolved into a focus on baseball and the history of the game. Michael is a member of the Society for American Baseball Research, and has been published in multiple regional magazines.