By Betty Hoover DiRisio, LCHS Volunteer
In 1920, the "Beaver Five" were Lawrence County's junior basketball champions. In 1920-1921, utilizing many of the same players the team was reorganized as "The Castle Five", an independent amateur organization under the management of Alec Samuels and Coach Harry Day of the YMCA. Charles Gillium joined the Castle Five as the center in 1922 after his graduation from New Castle High, where he was a member of the championship class team.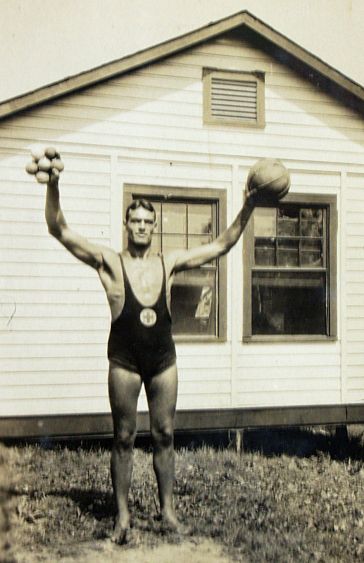 He was born May 2, 1905 to Charles E. and Susanna Plant Gillium of New Castle. He stood somewhere between 6'2″ and 6'7″ weighing between 187 and 200+ pounds, wearing a size 13 shoe. "Horse" reportedly became the "second" player in the world to be able to palm a basketball, George (Horse) Haggerty of the New York Celtics being the first. Charles played for the Castle Five until January 1926 when he was recruited by Grove City College. Four more Castle Five also joined the Grove City team. Unable to fill these vacated positions with good players, the Castle Five was forced to disband. During their run from 1920-1926, the Castle Five met and defeated the best in Western Pennsylvania and Eastern Ohio. Of 120 games they won 99.
Gillium played center for Grove City during the 1926, 27 and 28 seasons. During those summers, Billy Glenn one of the biggest operators of concessions at Cascade Park, hired Gillium (also an expert swimmer) as a lifeguard and attraction at the newly built pool at Cascade Park. After Grove City, Gillium while attending Syracuse University became a star in the Eastern Intercollegiate League. He joined Vic Hansen's All-Americans and was later signed to the national league by Dayton Kellys. During the 1930-1931 season he played for the Toledo Red Men Tobacco Team. He also played for the Cleveland Rosenblums. In the fall of 1931 Horse joined the world champion New York Celtic team in the professional league, where he played until he fell ill with tuberculosis. Horse died August 10, 1935 at the home of his grandparents in Shenango Township, Mr. & Mrs. Reed Stevenson, leaving them and one sister, Ruth Gillium Pappas, behind. He was only 30 years old.
In 1987 Charles "Horse" Reed Gillium was inducted into the Lawrence County Historical Society Sports Hall of Fame.
.