By Betty Hoover DiRisio (LCHS volunteer)
A seemingly routine traffic stop spiraled out of control for Pennsylvania State Trooper Leonard P. Straple. He stopped a speeding station wagon near the location of the former East Wind in Shenango Township on February 13, 1961. The station wagon was occupied by two young couples and their three children. A baby doll was visible in the backseat. Unbeknownst to Straple the two men in the vehicle, Thomas Ferriman and Max S. Parson were wanted in Florida for armed robbery, and in at least three other states for auto larceny and other charges.
When Straple asked the driver for identification, Ferriman realized he was going to get a ticket for speeding. He pulled out a .38 caliber Smith and Wesson from under his jacket and fired. Shot through the face, Straple went for his revolver. Ferriman fired two more shots into the trooper at point blank range. Ferriman then pistol whipped him, knocking him to the ground.
Trooper Straple was able to radio the police barracks before being rendered unconscious. Ferriman was driving a stolen 1955 Plymouth with California tags.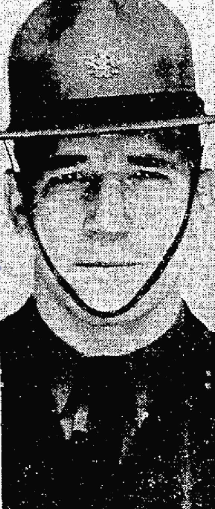 Hoards of policemen hit the streets, setting up roadblocks in the county and surrounding areas. The culprits were stopped 22 miles from the shooting at a road block near West Middlesex. Ferriman of Chippewa Lake, Ohio pleaded guilty to the shooting and was sentenced to 16 1/2 to 33 years in the Allegheny County Workhouse. Straple remained in critical condition for some time, but eventually recovered from his wounds. He was able to return to work seven months after the shooting and retired in 1983 after 29 years of service.