Uncles at War: the Pacific, Panama Canal & the Atlantic
"Uncles at War" While doing research on family history, Dr. Nichols discovered information on his uncles that focused not only on their experiences but the details of World War II on three different theaters of the war: The Pacific Islands, the Panama Canal, and the Atlantic Ocean. The program will be more than their story because their experiences in the air force, on the islands, and in the canal zone, provide an insight to what many persons who fought in this war had to deal with as well as its impact on their families at home.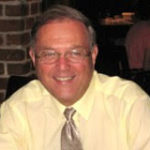 Dr. John A. Nichols, professor emeritus of History (Slippery Rock University), currently is a destination/special interest speaker on cruise ships of topics as diverse as the Ephesus in the time of St. Paul or Native Americans on the Caribbean islands to more modern events such as the building of the Panama Canal and tourism in the 21st Century.
Photo of Eldred Gray, 2nd lieutenant in the USA Air Corp.
Photo of Dr John A. Nichols.
Photos provided courtesy of Dr. John A. Nichols.