By Stephanie Fulena, LCHS Newsletter Editor
The Lawrence County Historical Society held their May 8, 2013 meeting at Cascade Park. The Civilian Conservation Corps (CCC) statue provided the backdrop for four local former CCC "Boys" to share their memories of that time between 1938 to 1942 when they, as teenagers, served in CCC camps in Virginia and Pennsylvania.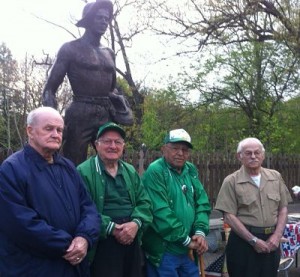 George Lamorella joined the CCC right after his graduation from New Castle High School in 1938, Angelo Nocera joined after eighth grade ("making" himself a little older to meet the age requirement). Dan Micaletti and Don Kennedy also shared their camp recollections. Dan served at the Pennsylvania Grand Canyon. Workers were paid $30 a month, $25 was automatically sent home to the families. The CCC boys had $5 spending money and were provided food, shelter, and clothing. When asked by an audience member how the food was, they replied in unison, "Good!" One stated that it was the first time he had two pairs of shoes at the same time. They were supplied two pairs per year.
All four speakers captivated the audience. All have remained active in the local CCC Chapter participating in many service projects throughout the years. The Chapter raised the money for the CCC Statue at Cascade Park (dedicated September 23, 2000) and they are responsible for historical markers for all CCC camp sites in Pennsylvania. Mrs. Nocera displayed a scrapbook of their projects and citations received. Anyone can belong to the local chapter, you need not have served.
Striving to help recovery from the Depression, the CCC gave young unmarried men, from 17 to 25, work in forests and parks. Three million boys participated in the CCC's nine years (1933-1942) of existence. They planted three billion trees, constructed 800 parks, and worked in existing parks all over the nation.
All four of our program presenters joined the Armed Forces when the CCC program ended in '42. Three said that the CCC trained them well for service in the Army. Don Kennedy joined the Navy after the CCC.
New Castle News coverage: article one – article two