By Betty Hoover DiRisio, LCHS Volunteer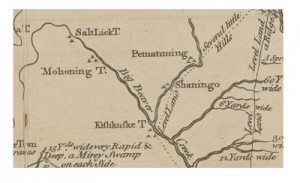 Pictured is a portion of an ancient map of Indian towns drawn by Thomas Hutchins in 1764/1766. Indian encampments are indicated by small triangles. You can see the location of Kushkushkee Town encampments in present day Lawrence County.
What follows is a report written by a prominent citizen of Lawrence County and submitted to the Smithsonian Institution in which he describes the location of the Indian Village in Edinburg and the fate of the ancient Indian burial mound found at the site.
ACCOUNT OF THE OLD INDIAN VILLAGE KUSHKUSHKEE, NEAR NEWCASTLE, PENNSYLVANIA
By E. M. McCONNELL
Annual report of the Board of Regents of the Smithsonian Institution (1871), 24 cm. pp 406-407
"This Indian village was on the Mahoning River, on the south side of the present town of Edinburgh, about five miles west of the city of Newcastle, Pennsylvania. It was located on the second bank, on the west side of the river, with a range of high hills to the west, forming an excellent protection from storms. The distance from the base of the hills on the west to the river is about one-third of a mile, making a beautiful valley of several miles both north and south. Christian Frederic Post, a Moravian, was sent on a mission to the Indians at this place by General Forbes, in 1758. He says this village at that time "contained ninety houses and two hundred able warriors." Post, whose business it was, induced the chief, Pakankee, to attend a great conference to be held opposite Fort Duquesne, now Pittsburgh. This is the earliest knowledge we have of Kushkushkee."
"Twelve years later, 1770, at the request of Pakankee, the Moravians removed from their settlement at Lawunakhannak on the Allegheny River, and settled on the Beaver River, five miles south of Newcastle, where they remained for two years, instructing the Indians in the principles of the Christian religion, establishing schools, and introducing, agricultural pursuits, etc. During this time they had intercourse with Indians at Kushkushkee, many of whom became converts to Christianity, among the number Glikkikan, a distinguished orator of the Delaware tribe."
"In company with D. Craig, Esq., and R. W. Clendenin, I visited the site of this ancient village the past summer to examine carefully its location and surroundings, and learn what I could of the race who inhabited it more than a hundred years ago. When I visited this place, some years ago, the sepulchral mound was in an almost perfect state of preservation, but at this time we found that three-fourths of it had been leveled to the grade of the field surrounding it, which, we were informed, had been done by the owner of the land, with the expectation of finding some hidden treasure. It is a source of regret to those of os who value these traces of former occupation of our soil that they had not been sacredly protected and preserved. The mound was originally about fifty feet in circumference, and six feet high in the center. We found one human skeleton that had been left exposed, many of the bones being in a perfect state of preservation. This grave had been made on the surface of the ground. Flag-stones broken to the required width had been set on their edges around the body, uniform in height, and covered with flat stones, and then with earth; other bodies had been placed alongside in the same manner, and also on the top of those first interred and in this way after many years forming the mound as we find it. A few rods south of the mound are about twenty graves of bodies buried separately, the ground over each grave showing a depression of about six inches, with a piece of flat stone set at the head and foot of' each grave. This may have been adopted under the influence of the teachings of the Moravians as a more Christian form of burial. In examining a field of ten acres or more near the mound, we found a great quantity of flint chippings that had been broken off in making implements, large numbers of which have been gathered up here since the settlement of this valley by the whites."
"Mr. James Park, who has lived here for almost seventy years, gave me a stone implement somewhat of the shape and size of a carpenter's hatchet, made of the blue-gray stone common in this neighborhood. I have others much the shape and size of wedges used for splitting stone."