---
Some of the programs the society typically offers are: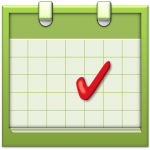 Monthly lecture series with guest speakers • Museum tours • Walking tours of historic New Castle • Lawrence County Trivia Competition • Sports Hall of Fame • Fireworks exhibits • Ice cream social • Membership & Friends Dinner • Haunted History Walking Tour • Mistletoe Magic • Open House with Santa

We Can Do It! WWII – Traveling Exhibit (recurring event)
March 30, 2019
@
11:00 am
–
4:00 pm
EDT
FREE for Children.
Entry Free for Adults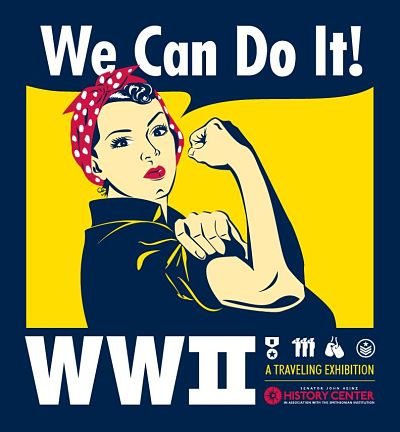 Come visit the NEW "We Can Do It! WWII" traveling exhibit which explores Western Pennsylvania's incredible impact on the home, industrial, and battle fronts during World War II. Beginning March 30 through May 21 every Tuesday, Thursday and Saturday from 11 am to 4 pm.
MARCH 30 (begin)
APRIL 2, 4, 6,9 11, 13, 16, 20, 23, 25, 27, 30
MAY 2, 4, 7, 9, 11, 14, 16, 18, 21 (end)
The exhibit will showcase four lifelike museum figures of local WWII heroes:
General George C. Marshall – Uniontown native who served as Army chief of staff from 1939 to 1945
Tuskegee Airman Lt. Carl J. Woods – from Butler, he was in the first group of African-Americans to serve as bomber and fighter pilots
Iwo Jima hero Sgt. Michael Strank – grew up near Johnstown, helped raise the American flag during the battle for Iwo Jima
The Westinghouse Company-inspired Rosie the Riveter – by Artist J. Howard Miller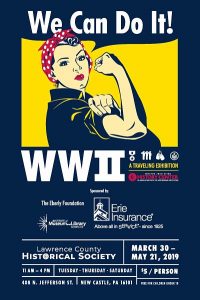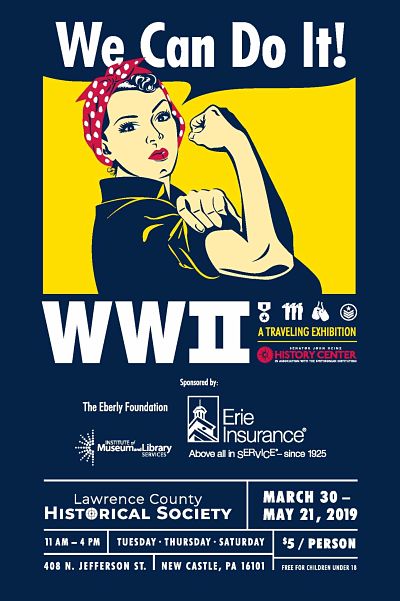 As an added benefit, we will be offering lectures during the exhibit. Visitors to the exhibit will learn about the development of the jeep, a uniquely American invention produced by the American Bantam Car Company in Butler, Pennsylvania, and hear the stories behind Rosie the Riveter and the local Tuskegee Airmen whose contributions helped to turn the tide of the war.
Entry fee = $5.00 per person (includes access for the entirety of the exhibit's duration). FREE for children/youth under the age of 18.
The "We Can Do It! WWII" traveling exhibition is scheduled to visit 18 cultural institutions throughout Western Pennsylvania over the next three years.
PURCHASE YOUR TICKETS TODAY!
Event Categories: