| SHOP HOME | Tickets | New Items | Books | DVDs | Membership | Donations | Audio CDs | Collectibles | Games | Shipping/Returns
---
---
ORDERING INFORMATION
To order, click on ADD TO CART button. Shopping Cart will display at top of page only when items have been added to the cart. Items also available for purchase at our on-site Gift Shop.
Shipping fees are valid only to USA addresses. If shipping to a foreign address, we reserve the right to charge additional shipping fees (please contact us first).
Fun for the whole family
LCHS Trivia Cards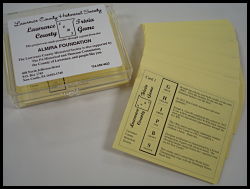 Played in the style of "Trivial Pursuit."
Learn the Geography, History, Industry, People, Buildings and Sports of New Castle and Lawrence County while playing this game. Thousands of Lawrence County students have competed in Lawrence County Trivia over the years.
Product Name: LCHS Trivia Cards
Price: 14.99 + S&H

TRY THIS SAMPLE FROM OUR TRIVIA CARD SET
QUESTION: In 1885, Rev. John Giffen, a missionary working in Egypt brought to Westminster College this distinguished guest who has made her home on campus ever since & even now!
What is her name?  How old is she?
First – take a guess! Then, check your answer. CLICK HERE and scan to the bottom of the page.[/note]