Come visit Us in Person - see our days and hours below
If you are in our area, we invite you to come visit our Gift Shop. We have plenty of interesting books, music, knickknacks and collectibles available for purchase. We also have numerous items on display.
Need to buy something right now?
Visit our
on-line eSTORE
What You Can Find and Enjoy at our on site Gift Shop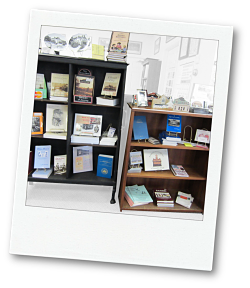 Information about Lawrence County of interest to historical researchers
Special items for that hard to shop for friend
Membership signups – see all the benefits you will enjoy
Tickets to special events
Books and historical music on display
Plaques from the Sports Hall of Fame
Several historical collections are on display
If you visit our on-line eStore you can see details of product listings and descriptions. Please note that some items available in our on-site Gift Shop are not available in our on-line eStore. Why? Some on-site Gift Shop items may be too heavy to ship or be of very limited availability.
Gift Shop hours & location
Days Open
: Tuesday, Thursday & Saturday from 11 am to 4 pm
We accept: Cash, credit cards, or local check
Location: (next to the Museum – the Big White House)
Medure Annex
408 N. Jefferson Street
New Castle PA 16101