COMING APRIL 5 - HISTORY OF JUDAISM LAWRENCE COUNTY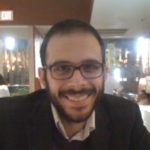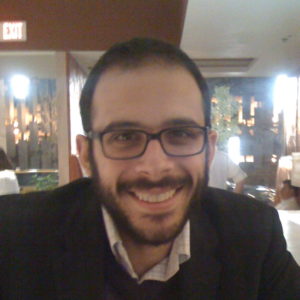 Join us April 5 from 7-8:30 pm when Eric Lidji, a representative of the Heinz History Center, presents on the History of Judaism in Lawrence County.
All LCHS programs are free and open to the public.
In the early 20th century, Western Pennsylvania had more small town Jewish communities than any other region in America. For more information about the program, CLICK HERE. 
=== FEATURED DVD ===
Big Snow of 1950
The "Big Snow of 1950" began on Thanksgiving afternoon, Thursday, November 23. By Saturday, a record 33 inches had fallen and almost everything in Lawrence County (in Western Pennsylvania) was shut down. Farmers had difficulty getting to their barns to care for their animals. Since milk trucks could not get through, soon all milk cans were filled, leaving no room for continued production.
In the cities and towns, nearly all commercial activity ceased. Fortunately, electric service continued and telephone service was provided on an emergency basis. Large snow-moving equipment was brought in from elsewhere and some streets and roads began to be opened to a degree as early as Monday.
The streets in New Castle were filled with snow as shop keepers tried to conduct their businesses.
This amazing natural occurrence is exquisitely captured in this one hour video masterpiece offered exclusively by the Lawrence County Historical Society.
Product Name: Big Snow of 1950's DVD
Price: 14.99 + S&H
  
RENT THE MANSION FOR YOUR SPECIAL EVENT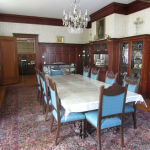 Having a Special Event? Did you know you can rent the Historical Society Mansion! Members of the Society receive a discount. 
Our historic mansion is available for a variety of special events (showers, parties, small weddings, etc) or for picture-taking.
Contact us
for rental information. Take an
online photo tour
 of our museum to experience the beauty and elegance of this 1905 Colonial Revival building and the period furnishing throughout.
Your Support is ALWAYS Appreciated
Help support our nonprofit society and nonprofit volunteerism. All donations are tax deductible to the fullest extent of the law. You are invited to make a donation in any amount you choose. Any and all support is welcomed and always appreciated. 100% of every donation is used to help support our volunteer organization. Lawrence County Historical Society is a tax exempt, charitable 501(c)(3) organization.
NEW BOOK
In Hot Pursuit: The Hidden History of the Underground Railroad in Lawrence County, PA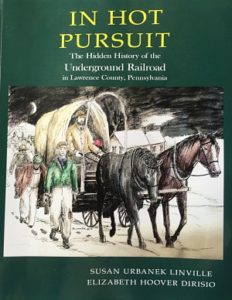 Coauthors, Susan Urbanek Linville and Elizabeth Hoover DiRisio, include stories about abolitionists and conductors who operated in Lawrence County during the years preceding the Civil War. In Hot Pursuit also highlights the Free-Black community, the importance of area ministers in rebuking slavery, and the county's national participation in the fight against slavery.
Paperback: 200 pages
Publisher: Pokeberry Press; 1 edition (July 1, 2016)
Language: English
Product Dimensions: 8 x 0.5 x 10 inches
Shipping Weight: 1.2 pounds
Price: ONLY $23.99 – includes FREE USA Shipping

Author Information
FREE Shipping is valid only to USA addresses. If shipping to a foreign address, we reserve the right to charge additional shipping fees (please contact us first).
Lawrence County Historical Society – DVDs
Click on photos to watch an excerpt on YouTube. Read more in our ONLINE eSTORE. Or use our ADD to CART button to BUY NOW. IMPORTANT NOTE: Shipping fees are valid only to USA addresses. If shipping to a foreign address, we reserve the right to charge additional shipping fees (please contact us first).
ARTICLES from our BLOG
The Lawrence County Historical Society has the largest collection of Shenango China in the world. More than 500 of its 3,000-plus pieces are on display!