Closed Saturday May 23 for Holiday
Past Event: Intro to Genealogy (May 13)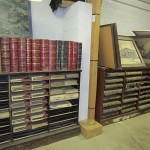 We had a full house!
Thank you to all who attended. If you missed this event, check back to see when we are offering it again. The speakers set up a great display and hope to do a future workshop that expands on the topic.
Summary of Event: Do you want to create your family tree but you're not sure what to do? Are you wondering how to start your search? Betty DiRisio and Sue Linville will get you started and make things easier for you. They will set you on the right path to finding your ancestral roots.
Visit our EVENTS page for more information.
News Flash! Mansion available to rent for specials events.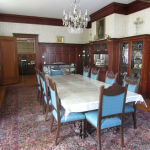 Our historic mansion is available for a variety of special events (showers, parties, small weddings, etc) or for picture-taking. Contact us for rental information.
Take an online photo tour of our museum to experience the beauty and elegance of this 1905 Colonial Revival building and the period furnishing throughout.
On SALE NOW – Free Shipping USA – 2015 Calendars
Only $11.99 for a beautiful 13 photo calendar honoring the Women of Lawrence County.
"Women of Lawrence County" with photos from 1880-1942 is only $16.99  $11.99 with FREE shipping to USA addresses. Order yours today. Supplies are limited.
Here are some details about the historical photos and this year's calendar.
The Women of Lawrence County provided critical and significant roles in the history of our county. Our 2015 Calendar features sepia and black & white historical photos from 1880-1942.
Our 1942 cover photo (Inspecting Shells at United Engineering) has a mesmerizing feel to it. The style is Art Deco and looks like a Hollywood screen set even though it is a real photo of an actual worker with real products.
In addition to a feature photo, each month includes information about historical dates significant to Lawrence County's history. For example: February 7, 1907 (First Warner Theater "The Cascade Palace" opens on South Mill Street, New Castle).
Feature photos by month include:
January: Teachers New Castle School System circa 1880s
February: Shenango Valley Hospital nurses' training class of 1906
March: Inspecting shells at United Engineering 1942 (cover photo)
April: Lawrence County Chapter of the American Red Cross – taking care of babies & patients
May: Girls working Circle Shears Shenango Works Tin Mill 1917
June: "Bloomer Girls" at the Tin Mill 1917
July: New Castle City Policewoman Minnie McKibben surrounded by male colleagues
August: Almira Martin – founder of the Almira Home
September: "Bloomer Girls" Shenango Works Tin Mill 1917
October: Margaret L. Henry – founder of the Margaret L. Henry Home (orphanage)
November: Harriet J. Eckels, US Army Nurse – WWI
December: Employees of the YWCA
Last year's calendars were only available for on-site purchase. This year we have made it possible for anyone to purchase one (or several) of the calendars by creating a special package price that includes First Class shipping to any USA address.
Decide Soon! We have published our calendar in limited quantities.
Purchase today for only $16.99  $11.99 and receive FREE shipping to USA addresses.
Product Name:  2015 LCHS Calendar
Price (includes FREE USA shipping):  $11.99
If shipping to a foreign address, we reserve the right to charge additional shipping fees. BEFORE ordering for shipment to a foreign address, CONTACT US.

Want to SAVE a little MORE?
Come to our on site Gift Shop and purchase a copy in person. We'll sell it to you on site (if you can brave the cold and the snow) for a reduced rate. It's a great opportunity to view our FREE exhibits and browse through the wide variety of gifts we have for sale. Open hours: 11 am – 4 pm / Tuesday, Thursday & Saturday only.
Lawrence County Historical Society – DVDs
Click on photos to watch an excerpt on YouTube. Read more in our ONLINE eSTORE. Or use our ADD to CART button to BUY NOW. IMPORTANT NOTE: Shipping fees are valid only to USA addresses. If shipping to a foreign address, we reserve the right to charge additional shipping fees (please contact us first).
SALUTE to SERVICE
In appreciation of the veterans of Lawrence County, a FREE event was held for the public. Veterans were encouraged to attend on September 11, 2014 at 6 pm at the Edison Manor 222 West Edison Avenue New Castle PA 16101. There were invited speakers, an all American dinner, and videographer Bert Gerstnecker was on site to interview and video any of the veterans who wanted their story told
The interviews, pictures and narratives conducted at the Salute to Service event will be posted under the Oral History section of this website when they become available. We hope to add to and enhance the oral histories so that any veteran or family of a veteran who has passed has the opportunity to have their service and sacrifices to their country be archived and preserved for future generations of family and friends.
Meanwhile here is a sample of what is to come. 
ARTICLES from our BLOG
The Lawrence County Historical Society has the largest collection of Shenango China in the world. More than 500 of its 3,000-plus pieces are on display!