Appraisal Fair - May 7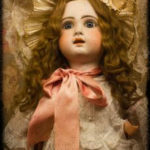 Antiques and Collectibles Appraisal Fair (2016) Join us May 7 for our 3rd annual Antiques & Collectible Appraisal Fair. A local local auctioneer and other professional experts will be on site to provide a verbal identification of items.
Victorian House Faces Razing
New Blog Posting on the George W. Johnson Victorian house built in the early 1890's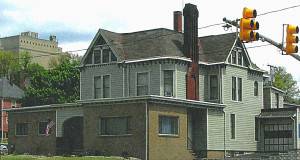 Read about this Victorian house built for a "Prince", which became a parsonage whose Reverend survived the influenza pandemic of 1918, to later become a funeral home. It now faces razing to make way for a service station. READ STORY HERE
Having a Special Event? Rent the Historical Society Mansion!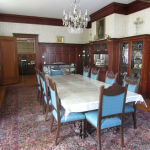 Our historic mansion is available for a variety of special events (showers, parties, small weddings, etc) or for picture-taking. Contact us for rental information. Take an online photo tour of our museum to experience the beauty and elegance of this 1905 Colonial Revival building and the period furnishing throughout.
Your Support is ALWAYS Appreciated

Help support our nonprofit society and nonprofit volunteerism. All donations are tax deductible to the fullest extent of the law. You are invited to make a donation in any amount you choose. Any and all support is welcomed and always appreciated. 100% of every donation is used to help support our volunteer organization. Lawrence County Historical Society is a tax exempt, charitable 501(c)(3) organization.
Lawrence County Historical Society – DVDs
Click on photos to watch an excerpt on YouTube. Read more in our ONLINE eSTORE. Or use our ADD to CART button to BUY NOW. IMPORTANT NOTE: Shipping fees are valid only to USA addresses. If shipping to a foreign address, we reserve the right to charge additional shipping fees (please contact us first).
ARTICLES from our BLOG
The Lawrence County Historical Society has the largest collection of Shenango China in the world. More than 500 of its 3,000-plus pieces are on display!