CHILDREN - ICE CREAM - FIREWORKS on JULY 9
FREE children's programs, ice cream, museum tours, WWI exhibit and fireworks.
The Historical Society's annual Ice Cream Social is Saturday, July 9th. While the annual Fireworks Festival is taking place in downtown New Castle, just up the hill the Historical Society will be serving free ice cream, cake, and refreshments.
7 PM – Children's Program
The evening kicks off with a children's program in the Medure Annex building. Jim Schneider, a member of the King Beaver Archaeology Club, will speak to children ages 5 and up about the history of how and when our local Native American Indians arrived and the tools that they used. Jim, along with other members of the club, will have Indian artifacts on display. The children will then have the opportunity to make an Apache arrowhead necklace.
8 PM – Cake & Ice Cream
Cake and ice cream will be served on the front porch of the Clavelli History Center.
New WWII Exhibit – FREE Tours
Visitors will be able to view a new WWI exhibit which includes historic posters, uniforms, helmets, gas masks, and photos
Free tours of the museum will also be available until the start of the fireworks
Approx 10 PM – Fireworks
The start of the fireworks. Our yard and front porch provide an excellent view.
More details are HERE.

RENT THE MANSION FOR YOUR SPECIAL EVENT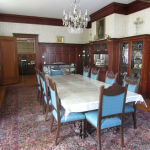 Having a Special Event? Did you know you can rent the Historical Society Mansion! Members of the Society receive a discount. 
Our historic mansion is available for a variety of special events (showers, parties, small weddings, etc) or for picture-taking.
Contact us
for rental information. Take an
online photo tour
 of our museum to experience the beauty and elegance of this 1905 Colonial Revival building and the period furnishing throughout.
Your Support is ALWAYS Appreciated
Help support our nonprofit society and nonprofit volunteerism. All donations are tax deductible to the fullest extent of the law. You are invited to make a donation in any amount you choose. Any and all support is welcomed and always appreciated. 100% of every donation is used to help support our volunteer organization. Lawrence County Historical Society is a tax exempt, charitable 501(c)(3) organization.
Lawrence County Historical Society – DVDs
Click on photos to watch an excerpt on YouTube. Read more in our ONLINE eSTORE. Or use our ADD to CART button to BUY NOW. IMPORTANT NOTE: Shipping fees are valid only to USA addresses. If shipping to a foreign address, we reserve the right to charge additional shipping fees (please contact us first).
ARTICLES from our BLOG
The Lawrence County Historical Society has the largest collection of Shenango China in the world. More than 500 of its 3,000-plus pieces are on display!