We Need Photos by April 30th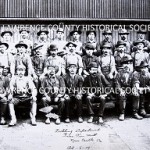 The Lawrence County Historical Society is preparing a new exhibit that features the tradesmen and tradeswomen of Lawrence County from the Industrial Revolution to present day. We are creating a Wall of Workers full of photos of those who worked the early iron furnaces to our present day steel manufacturers.
Are you or anyone you know a tradesman or tradeswoman? Your parents, grandparents, or even great-grandparents? If so, we would love to have photos for our Wall.
Our exhibit "When Forges Roared: Titans and Tradesmen of Lawrence County's Industrial Revolution" opens July 12, 2014 during the Fireworks Festival.
How to Submit a Photo for the Wall of Workers
Submission Deadline: April 30
COPIES ONLY please since the photos cannot be returned – Do not send us your original photos

Email: info@lawrencechs.com
Mail to: Lawrence County Historical Society, PO Box 1745, New Castle, PA 16103
Drop off Address & Times: Society Annex Building located at 408 N. Jefferson Street, New Castle; Tuesday, Thursday, or Saturday between 11 am and 4 pm

Make sure you INCLUDE

NAME of the person
MANUFACTURING PLACE (for example: Wampum Iron Furnace, Johnston Bronze, Carnegie Steel, Tin Mill, Blair Steel, etc.)
TIME WORKED there (can be approximate)
JOB or duty
Have questions or need more information? Telephone us: 724-658-4022 (Tuesday, Thursday, or Saturday from 11 am to 4 pm)
The Music of America: African-American Contribution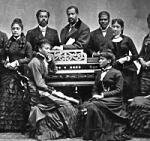 Join us February 12 as we explore: "The power of song in the struggle for Black survival – that's what spirituals and blues are about! Thought to be the only original folk music of America, the spiritual and the blues have had a significant impact on the evolution of all American music." (quote by presenter Jean Speight)
Here is an excerpt from our DVD: The Big Snow of 1950 in New Castle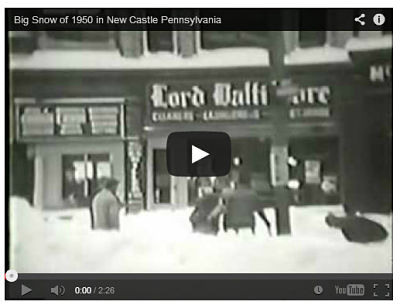 Buy now or read more about it in our ONLINE STORE
Product Name:

Big Snow of 1950′s DVD
Price: 14.99 + S&H
Wonderful items available in our online store.

Visit us in person & enjoy our Gift Shop
If you are in our area, we invite you to visit our onsite Gift Shop. It is loaded with historical references and displays. We have wonderful seasonal gifts for that hard to shop for friend or relative. Books and historical music are on display and available for purchase.
Some ARTICLES from our BLOG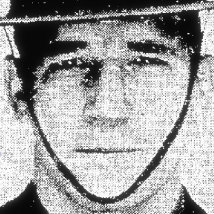 By Betty Hoover DiRisio (LCHS volunteer) A seemingly routine traffic stop spiraled out of control for Pennsylvania State Trooper Leonard P. Straple. He stopped a speeding station wagon near the location of the former East Wind in Shenango Township on February 13, 1961. The station wagon was occupied by two …
0 comments
The Lawrence County Historical Society is a tax exempt, charitable 501(c)(3) organization. We are an all volunteer nonprofit organization dedicated to the preservation and display of the heritage of all the citizens of Lawrence County, Pennsylvania. We appreciate your support and interest.
The Lawrence County Historical Society has the largest collection of Shenango China in the world. More than 500 of its 3,000-plus pieces are on display!
The services we provide are quite varied and wide reaching. Here's a sample of some of the valuable tasks our volunteers fulfill:
sort and archive "found" objects in our attic
sort and catalog donations
help visitors from out of town research their ancestors
set up displays in the museum
scan and digitize our voluminous photo collection
post historical information to our Facebook page
write quarterly newsletters to the members
sponsor free lectures and demonstrations to the community
free ice cream and cake on Fireworks Weekend (July)
write articles and books
administer and run the office
prepare the museum/mansion for weddings or special parties
Lawrence County Historical Society • an all volunteer nonprofit organization!