FREE EVENT February 10
Twenty Extraordinary African American Women! Their names are not familiar to most people. Their faces are not seen in our history books, But yet each of them played a valuable part in shaping America. Join us as Jean Speight offers a conversation and Power Point presentation that can expand our knowledge of African American Women beyond Rosa Parks. She includes those who came before and paved the way for a Rosa Parks. For PROGRAM DETAILS CLICK HERE
Did you know you can rent the Historical Society Mansion for specials events?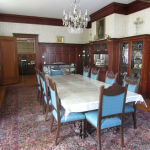 Our historic mansion is available for a variety of special events (showers, parties, small weddings, etc) or for picture-taking. Contact us for rental information. Take an online photo tour of our museum to experience the beauty and elegance of this 1905 Colonial Revival building and the period furnishing throughout.
Your Support is ALWAYS Appreciated

Help support our nonprofit society and nonprofit volunteerism. All donations are tax deductible to the fullest extent of the law. You are invited to make a donation in any amount you choose. Any and all support is welcomed and always appreciated. 100% of every donation is used to help support our volunteer organization. Lawrence County Historical Society is a tax exempt, charitable 501(c)(3) organization.
Watch our 12 minute Civil War Presentation on YouTube
Watch NOW
Local historians discuss the onset, impact and meaning of the Civil War. Topics include: Fort Sumter, Election of Lincoln, Gettysburg, Pickett's Charge, Battery B, Emancipation Proclamation, Lincoln's Leadership, What Came Out of the Civil War.
Filmed on location at the Lawrence County Historical Society, Western Pennsylvania (New Castle). Filmed & Edited by Andrew Henley. Additional Edits: Kathleen A. Mooney. Keynote Speakers: Frank Lorello (retired history teacher), Chuck King (retired history teacher), and Judy Foster (Enon Valley Community Historical Society, Little Beaver Historical Society). Music credits: General Taylor Storming Monterey (Simon Knaeble), Slow March Midnight (JM Noreren, arranged by J Schatzman), When Johnny Comes Marching Home (Air Force Band of Liberty, Boston Massachusetts). Produced and Presented by the Lawrence County Historical Society, New Castle, Pennsylvania.
Lawrence County Historical Society – DVDs
Click on photos to watch an excerpt on YouTube. Read more in our ONLINE eSTORE. Or use our ADD to CART button to BUY NOW. IMPORTANT NOTE: Shipping fees are valid only to USA addresses. If shipping to a foreign address, we reserve the right to charge additional shipping fees (please contact us first).
SALUTE to SERVICE
In appreciation of the veterans of Lawrence County, a FREE event was held for the public. Veterans were encouraged to attend on September 11, 2014 at 6 pm at the Edison Manor 222 West Edison Avenue New Castle PA 16101. There were invited speakers, an all American dinner, and videographer Bert Gerstnecker was on site to interview and video any of the veterans who wanted their story told
The interviews, pictures and narratives conducted at the Salute to Service event will be posted under the Oral History section of this website when they become available. We hope to add to and enhance the oral histories so that any veteran or family of a veteran who has passed has the opportunity to have their service and sacrifices to their country be archived and preserved for future generations of family and friends.
ARTICLES from our BLOG
The Lawrence County Historical Society has the largest collection of Shenango China in the world. More than 500 of its 3,000-plus pieces are on display!