If you are interested in being a volunteer, please fill out the following contact form. We respond to all inquiries within 5 business days. If you have not received a response from us, please email us in case there was some difficulty in us reaching you. Thank you.
We are especially eager to have volunteers for our ARCHIVES Committee.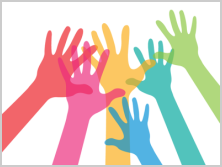 The Work of our Volunteers
We appreciate your support and interest.
The Lawrence County Historical Society is a tax exempt, charitable 501(c)(3) organization. We are largely a volunteer nonprofit organization dedicated to the preservation and display of the heritage of all the citizens of Lawrence County, Pennsylvania. We have one part-time paid administrator.
The Lawrence County Historical Society has the largest collection of Shenango China in the world. More than 500 of its 3,000-plus pieces are on display!
The services we provide are quite varied and wide reaching. Here's a sample of some of the valuable tasks our volunteers fulfill:
sort and archive "found" objects in our attic
sort and catalog donations
help visitors from out of town research their ancestors
set up displays in the museum
scan and digitize our voluminous photo collection
post historical information to our Facebook page
write quarterly newsletters to the members
sponsor free lectures and demonstrations to the community
free ice cream and cake on Fireworks Weekend (July)
write articles and books
administer and run the office
prepare the museum/mansion for weddings or special parties
design, manage and update our website
Lawrence County Historical Society • a volunteer nonprofit organization!