Castleton China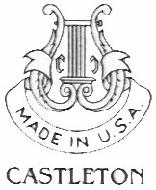 In 1939 Louis L Helleman, a former American representative for Rosenthal China of Germany came to Shenango and arranged to have their shapes and patterns made at Shenango. Mr. Smith invested $25,000 of Shenango's money in this company. This became the well-known dinnerware – Castleton China.
Castleton China was incorporated under the laws of the state of New York on May 5, 1940. Mr. Helleman held the majority of the stock. While Shenango pottery held stock and was represented on the board and manufactured the ware, the sales policy was under the direction of Mr. Helleman. In August 1951, Shenango Pottery Company purchased the outstanding stock of Castleton.
Mr. Helleman sensed a need for contemporary design in shape and decoration and commissioned outstanding artists to create fresh new design. One of the most notable achievements in ceramic art was Castleton's Museum shape designed by Eva Zeisel under the auspices of the Museum of Modern Art in New York. It was hailed across Europe and America as a new epoch in ceramic history. It has been on display in many American collections and in many European Museums including the Victoria and Albert Museum and the Royal Society of Art in London.
In 1956 Ervin Kalla, noted sculpture and ceramist redesigned place setting items in the Museum shape. The new shape in plain white with platinum trim was known as Symmetra.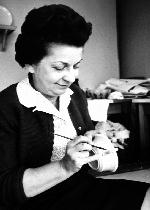 In 1955, Castleton was commissioned by Mrs. Dwight D. Eisenhower to create a formal design of gold service plates for the state dining room at the White House. William Craig McBurney Director of Design at Shenango designed this. To commemorate President Eisenhower's First birthday in the White House, another studio design was created. This decoration of intertwined doves was a Pennsylvania Dutch symbol signifying love and peace. Shenango also created the china for Eisenhower's plane "The Columbine."
In 1968, Shenango was commissioned by the White House of President Lyndon B. Johnson to make a new service. This was designed by the Tiffany Company of New York featuring wild flowers of the United States. Shenango ceased production of Castleton in 1974.
Shenango China's Later Years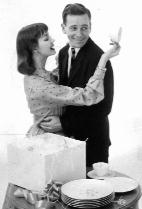 During the late 30's, Mr. Smith became convinced that America would soon be in the war. He began building three bisque 70′ tunnel kilns and one 105′ kiln. Delayed steel shipment caused the kilns to be raised under circus tents. Wartime created many difficulties. Young skilled workers went off to war. Many employees went to work in defense industries, which paid higher wages.
Although government contracts made up over 50 percent of all production, critical materials forced substitutes. Due to this hardship, more creative methods of decorating, mixing color and packing were devised. In addition, during the war CIO-USWA won the right to represent the workers. With the end of the World War II, it became apparent that a balanced expansion would have to be achieved. The government ware made during the ware was one fire, plain white ware or with little decoration. In the post-war economy there would by a large demand for dinnerware and overglaze hotelware. A building plan was initiated in 1945 and completed in 1947. The addition contained 150,000 square feet for decoration and a 60,000 square foot building with a 200′ tunnel kiln was built for a new refractories division.
During the war, they also made the ceramic parts for land mines. A group of local businessmen including officers of Shenango formed a company for this express purpose. Later this led to a minority stockholder suit, which occupied the officers and directors for a ten-year period.
In the 1939-49 period Shenango had grown by ten times, but the company was in dire financial straits due to a number of circumstances one being the expensive expansion program had been made without long term financing. Application was made to the reconstruction finance corporation for a long-term loan. This was approved. Labor strife in the 1950's had a drastic effect on the company's fortunes as two strikes took place.
In 1954, the name was changed to Shenango China, Inc., bringing it back to the original 1901 name. Effort was made to mechanize. They developed the first fast fire kiln, which revolutionized the vitrified china industry. For the first time Shenango had a kiln that would fire glost ware as fast as one hour and ten minutes. Previously firing would take 36 to 40 hours. The Minority stockholders suit was finally settled in 1958. This resulted in the trustees of the Smith estate selling their controlling interest in Shenango China to Sobiloff Brothers. By 1959, all the stockholders had sold their shares to Sobiloff. The assets of Shenango China were transferred to a newly formed subsidiary of Sobiloff's, Shenango Ceramics Inc. The working capital of the company was pledged for loans to finance other Sobiloff interests. Under the ownership of Sobiloff, Shenango purchased Wallace China on the West Coast and Mayer China in Beaver Falls, PA. These purchases added a new dimension to Shenango sales.
In 1968, Interpace Corporation bought Shenango Ceramics and her wholly owned subsidiaries. Interpace already manufactured Franciscan (earthenware) and fine china. Under the management of Interpace, the plant was expanded and modernized. A complete cup system, new bisque kilns and decorating kilns were built. They also introduced the "Valiela" decorating process, which greatly reduced the cost of print. Eleven years later, in 1979 Interpace sold the Shenango plant to Anchor Hocking Corporation of Lancaster, Ohio. Anchor Hocking continued to modernize, installing computerized body batch making, new clay forming, decorating, and firing equipment.
More changes soon were to come. In 1987, Anchor Hocking sold Shenango China to the Newell Company of Freeport, Illinois. Six months later they sold the plant to Canadian Pacific, the parent company of Syracuse China. Syracuse closed the plant and reorganized. Former employees had to reapply for their positions. Many were not hired back.
In 1989, Canadian Pacific decided to divest itself of its china manufacturers, selling Shenango, Mayer, and Syracuse to the Pfaltzgraff Company of York, PA. The Mayer operation was moved to the Shenango plant. Plans were made for further expansion, but the economic downturn and changes in demand resulted in consolidation and the eventual closing of the Shenango plant. The Shenango Indian had become and Onondaga.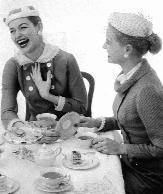 "The Pottery" has not only contributed to our local and international fame, the Shenango Indian, a symbol of the original American potters, is also a constant reminder of the plant's service, dependability, quality, and ever present commitment and talent of its workers – a lasting legacy of pride and beauty.